Israeli MPs walk out of EU Parliament chief's speech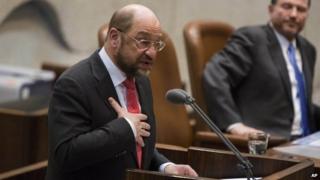 Israeli MPs from a pro-settler party have walked out of Israel's Knesset during a speech by the President of the European Parliament, Martin Schulz.
Members of Jewish Home heckled Mr Schulz after he made comments about Palestinians' access to water resources in the occupied West Bank.
They accused the German politician of spreading lies and anti-Israel propaganda before storming out.
Jewish Home leader Naftali Bennett demanded an apology from Mr Schulz.
"I will not accept a false moralising narrative against Israel in our parliament, in our Knesset. Certainly not in German," he wrote on his Facebook page.
'False' claims
In his speech, Mr Schulz said that when he was visiting the West Bank city of Ramallah earlier this week he had spoken with young Palestinians.
"Like young people everywhere in the world, their dream is to train, study and travel, to find work and to start a family. But they have another dream as well, one which concerns something most young people take for granted: they want to be able to live freely in their own country, with no threat of violence, with no restrictions on their freedom of movement."
He added: "One of the questions these young people asked me which I found most moving - although I could not check the exact figures - was this: how can it be that an Israeli is allowed to use 70 litres of water per day, but a Palestinian only 17?"
Mr Schulz's comments prompted Jewish Home MP Moti Yogev to shout: "Shame on you, you support someone who is inciting against Jews."
Mr Yogev and the other Jewish Home MPs present then left the chamber.
Afterwards, Mr Bennett said he could not "forgive this insult on the national dignity of the State of Israel" and demanded Mr Schulz retract his "false statements".
In his own speech to the Knesset, Israeli Prime Minister Benjamin Netanyahu accused Mr Schulz of repeating false claims.
"Now, the European Parliament president said honestly: 'I haven't checked it.' But that didn't stop him from repeating [the figures] and making an accusation," he said.
Israeli newspapers quoted Israeli Water Authority spokesman Uri Schor as saying the figures quoted by the European Parliament chief were "wrong". Media cited official data from 2006 showing Israelis used 170,000 litres of water per person per year and Palestinians more than 110,000 litres.
However, the Israeli human rights group B'Tselem said last month that per capita water use in Israel was three-and-a-half times higher than by Palestinians in the West Bank.