Syria crisis threatens regional press freedom - RWB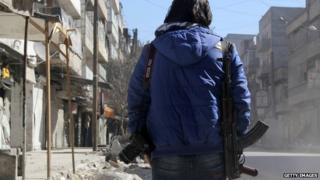 The Syrian crisis has had dramatic repercussions for press freedom across the region, a study by Reporters Without Borders (RWB) reports.
Journalists have become targets for groups attempting to control news in Syria and its neighbours, it says.
The only nations faring worse than Syria in RWB's annual report on press freedom are Turkmenistan, North Korea and Eritrea.
Finland tops the World Press Freedom Index for the fourth consecutive year.
It is closely followed by the Netherlands and Norway.
This year the index highlights the negative impact of conflicts on freedom of information.
Spiral of violence
"In an unstable environment, the media become strategic goals and targets for groups or individuals whose attempts to control news and information violate the guarantees enshrined in international law," RWB says.
It notes that Syria has become an extreme example of this since the uprising started in early 2011.
"Now one of the countries where freedom of information and its actors are most in danger, it rubs shoulders with the bottom three [on the index]," RWB states.
And in the region surrounding Syria, the organisation says, the crisis has reinforced media polarisation in Lebanon, encouraged the Jordanian authorities to tighten their grip, and accelerated the spiral of violence in Iraq where tension between Shias and Sunnis is growing.
RWB adds that in Iran there has so far been no implementation of the promises to improve freedom of information made by the new President, Hassan Rouhani.
In Egypt, meanwhile, the formation of a government led by Mohamed Morsi in 2012 was accompanied by an increase in abuses against journalists and all-out efforts to bring the media under the Muslim Brotherhood's control, it says.
That was brought to a complete halt by the army's return to power a year later. RWB says the new authorities have systematically targeted foreign and Egyptian media affiliated to the Muslim Brotherhood or regarded as sympathetic to it.
The pan-Arab TV station al-Jazeera has been particularly targeted.
'Fearsome predator'
But RWB also notes that some of this year's rankings are influenced by "a tendency to interpret national security needs in an overly broad and abusive manner to the detriment of the right to inform and be informed".
"This trend constitutes a growing threat worldwide and is even endangering freedom of information in countries regarded as democracies," according to RWB.
The organisation says investigative journalism often suffers as a result.
It argues that this has particularly been the case in the United States - which fell 13 places in the index - amid increased efforts to track down whistleblowers and the sources of leaks.
"The trial and conviction of Private [Chelsea] Manning and the pursuit of the National Security Agency analyst Edward Snowden were warnings to all those thinking of assisting in the disclosure of sensitive information that would clearly be in the public interest," RWB says.
Both American and British authorities "seem obsessed with hunting down whistleblowers instead of adopting legislation to rein in abusive surveillance practices that negate privacy, a democratic value cherished in both countries", it adds.
RWB describes organised crime as "a fearsome predator" for journalists in many parts of the world - particularly in Honduras, Guatemala, Brazil and Paraguay, but also Pakistan, China, Kyrgyzstan and the Balkans.
In November the UN General Assembly adopted its first resolution on the safety of journalists by consensus.
"It was unquestionably a step in the right direction," says RWB.
It now wants the UN to create a group of independent experts to monitor how member states meet their obligations to protect journalists, investigate cases of violence against them and bring those responsible to justice.