Syria crisis: 'First UK jihadist' in suicide attack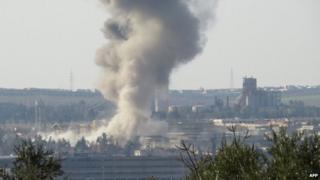 UK officials believe a British man may have carried out a suicide bombing in the Syrian city of Aleppo last week.
If confirmed, this would be the first known attack of its type by a Briton in Syria.
The al-Qaeda-linked rebel group in Syria, al-Nusra Front, named the man as Abu Suleiman al-Britani. He is thought to be from Sussex.
Hundreds of British nationals are reported to have gone to Syria to fight against government forces.
One in 10 foreign militants is believed to be from Europe, while most of the others are thought to have come from Saudi Arabia, Tunisia and Libya.
Prisoners 'escape'
Officials told the BBC the bomber was "probably British" but the Foreign Office was unable to confirm this without DNA evidence.
Britain's domestic intelligence service MI5 is leading a joint investigation with police into the allegations. The probe is focused on the Crawley area of Sussex.
The al-Nusra Front earlier said Abu Suleiman al-Britani had driven a truck full of explosives at the walls of Aleppo prison on Thursday and detonated it.
The bombing was reportedly part of an attempted jailbreak by fighters from the hardline Islamist groups, Ahrar-al-Sham and the al-Nusra Front.
Heavy fighting broke out between the rebels and Syrian forces, causing dozens of casualties on both sides.
Activists said as many as 300 inmates managed to escape, but the Syrian government denied the report.
Forces loyal to President Bashar al-Assad regained control of most of the prison last Friday, after 24 hours of clashes.
Rebels have launched several attacks on the jail in recent months. Up to 3,000 inmates are believed to be held inside the prison.
Aleppo, in the country's north, has been the focus of bitter fighting between President Bashar al-Assad's forces and rebels.
Government helicopters have been dropping barrel bombs - crude weapons comprising cylinders packed with explosives and metal fragments - on rebel-held neighbourhoods.
Syria's conflict has claimed more than 100,000 lives since 2011 and has driven 9.5 million people from their homes.