Iraq violence: Militants kill 15 soldiers near Mosul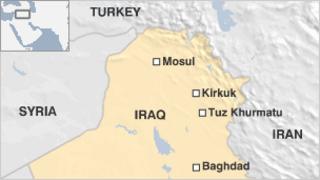 Militants have killed 15 soldiers guarding an oil pipeline in a pre-dawn raid on their camp in northern Iraq and kidnapped another, officials say.
The assailants were able to gain access to the facility in the village of Ayn al-Jahish, south of Mosul, because they were wearing military uniforms.
Security sources in Nineveh said 14 of the soldiers were beheaded and the other shot dead and hung from a gate.
They said they feared for the life of the soldier seized by the militants.
An armoured military vehicle was also taken, and the sources said they suspected it might be used to mount further attacks.
Tuesday's attack targeting security forces guarding an important piece of infrastructure was similar to one in the town of Tuz Khurmatu on Sunday.
Six policemen protecting a stadium construction site there were shot dead after being forced to pray in front of their attackers, who reportedly wanted to establish that they were Shia Muslims.
There has been a surge in sectarian violence in Iraq over the past year.
Iraqi government data says more than 1,000 people were killed in January, the highest monthly toll for almost six years.
The UN says more than 7,800 civilians died in violent attacks in 2013.