Israel removes Palestinians' Jordan Valley protest camp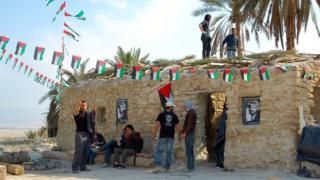 The Israeli military has removed Palestinian activists protesting at a deserted village in the West Bank.
Dozens of demonstrators had spent a week camping at Ein Hijleh in the Jordan Valley.
The final status of the area is a key point of contention in US-brokered peace talks with Israel.
The raid took place as aid agencies expressed alarm at a rise in Israeli demolitions of Palestinian property, particularly in the Jordan Valley.
Israel wants to keep an army presence in the West Bank along the eastern border with Jordan, after any peace deal is reached, citing security concerns.
Palestinians reject the idea, but say they would accept a temporary international force.
Planting trees
Early on Friday, Palestine TV showed live pictures of Israeli soldiers using tear gas to clear activists at Ein Hijleh, close to Jericho.
The Palestinian village was abandoned after Israel captured the land from Jordan in the 1967 war.
Activists moved in to show their opposition to Israel's continuing occupation of the vast stretch of land. They had begun to repair buildings and plant trees.
"We're here to demand a Palestinian existence on Palestinian land. We've seen political negotiations have led nowhere," one organiser, Diana al-Zeer told the BBC before the site was cleared.
"There are Israeli plans to annex the Jordan Valley, one of the most fertile areas of land for Palestinians. Palestinian houses here are being demolished, Palestinians are being thrown off their land and we're here to say 'no' to all of this."
Palestinian parliamentarian, Mustafa Barghouti, who was staying in the village, said that many people were beaten after military vehicles broke in.
"Despite the aggression of the occupation, we will come back to Ein Hijleh," he wrote on his Facebook page. "This will not break our will."
The Israeli military said troops had called on the activists to leave the area voluntarily and "once they failed to comply, an initiated evacuation took place."
Its statement said: "The agitators were evacuated due to rock hurling earlier this week at the main Jordan Valley route, and other legal considerations."
Demolition concerns
The Israeli rights group, B'Tselem says that in January, Israeli authorities demolished 27 homes in the Jordan Valley, leaving 147 people homeless.
Throughout 2013, a total of 124 residences were demolished there, leaving 339 people homeless, according to the group.
In an unusual step this week, the International Red Cross said that it was suspending the provision of emergency tents and shelters to displaced Palestinians in the area in protest at what it described as Israeli "obstacles and confiscations" of aid material.
A joint statement from 25 international aid organisations, including Oxfam and Christian Aid, said that the Israeli demolition of Palestinian homes and property in the West Bank and East Jerusalem reached a five-year high last year.
It said that during the period when peace talks resumed, there was a rise of 43% in demolitions and a 74% increase in displacement compared to the same period in 2012.
"Such demolition of civilian property violates international humanitarian law, which prohibits demolitions unless rendered absolutely necessary by military operations" the statement said.
The aid organisations call for "an immediate halt to the demolitions of Palestinian homes, and for Israel to facilitate immediate, full and unimpeded humanitarian access so that aid can reach people in need."
Figures from the UN humanitarian agency OCHA indicate that the total number of structures destroyed in 2013, stood at 390, up from 172 a year earlier.
Israel regularly issues demolition orders for fragile houses and animal pens erected by the Palestinian Bedouin community in the Jordan Valley, saying their construction is unlicensed. In some cases its Supreme Court has rejected petitions against the orders.
Human rights groups claim that discriminatory practices make it almost impossible for Palestinians to get building permits in the strategically important Jordan Valley, which is dotted with Jewish settlements. Israel strongly denies the charge.