Palestinian refugees' suffering in Syria's Yarmouk camp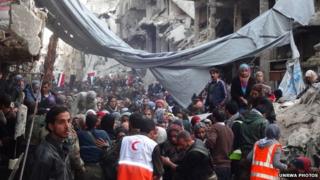 At the entrance to Yarmouk, the Palestinian refugee camp in southern Damascus, the scale of the devastation is shocking.
Fierce fighting from the Syrian civil war has left only the shells of buildings still standing, and there are huge piles of rubble.
In the past few days, thousands of residents have crowded near here hoping to collect food parcels being given out by aid workers.
The situation has grown desperate since last summer when the Syrian army blocked regular supplies to the camp in an attempt to force out rebels holed up inside.
Activists' videos and photographs have shown little children crying in hunger and with visible signs of malnutrition. Residents told the BBC that recently there have been about 100 deaths from starvation.
"Many were old people who I was responsible for but I couldn't do anything to help," says Um Mahmoud, a Palestinian care worker living in Yarmouk camp. "They were dehydrated and had no food, medicine or medical attention."
"Babies also died because there was no milk. Their mothers couldn't breastfeed them because they were sick and undernourished."
Palestinians in Yarmouk say they have resorted to eating boiled herbs and plants found growing near their homes.
Caught in clashes
The unofficial camp was set up as a home for refugees who left or were forced from their original homes because of the 1948 war that followed the creation of Israel.
Over time, it grew into a busy residential and commercial district of the Syrian capital where about 150,000 Palestinians lived alongside Syrians.
Although the Syrian authorities did not give citizenship to refugees, they had full access to employment and social services. Many say they had relatively good lives compared to their counterparts in other Arab countries.
But after the civil war began three years ago, Yarmouk got caught up in the violence.
Armed rebels fighting President Bashar al-Assad moved into the camp and found support among some Palestinian groups.
While tens of thousands of Palestinians fled, about 18,000 were trapped inside.
After months of negotiations, a deal was struck at the end of last year between the Syrian authorities and Palestinian representatives to allow food to be delivered to the camp.
A committee made up of the different Palestinian factions in Yarmouk approached local rebels.
The first food supplies were allowed in on 18 January and some people were allowed to leave for humanitarian reasons, via the safer exit to the north of the camp, into a government-controlled area.
"We were trying to get food and medicines in and help bring out those who are ill, pregnant ladies and university students," says minister, Ahmed Majdalani who led a Palestinian Liberation Organisation (PLO) delegation from the West Bank to Damascus.
"To be honest, the Syrian government was in full co-operation with us and there was also help from the armed groups."
'Life-saving' aid
The UN's Palestinian refugee agency, UNRWA says it has now distributed more than 6,000 food parcels, each consisting of rice, sugar, lentils, oil, powdered milk, halva, pasta and luncheon meat.
As fresh produce is scarce, vitamin supplements have also been handed out.
"Each food parcel is extremely basic but in the present circumstances its contents can be considered 'life-saving'," says UNRWA spokesman Chris Gunness.
"But there is a need for long-term support to Yarmouk and its civilians. UNRWA's presence and humanitarian assistance work must be permitted to continue and expand over a period of months, not days."
Locals emphasise the same point. "Even these aid packages are finished already," says Um Mahmoud. "Each one is supposed to last a week but it goes more quickly when you have a hungry family."
"People are also suffering to collect the aid. It's humiliating what you have to go through, I swear to God. The elderly and disabled cannot reach the distribution point."
Clashes near the distribution point on Saturday highlighted the continuing dangers and led to a suspension of aid deliveries.
Khalil Abu Salma, from the Palestinian co-ordinating committee in Yarmouk, urged international agencies to work more closely with his members.
"There should be more co-ordination, then we could deliver aid to the houses so everyone gets some," he says.
"It would be more fair. There needs to be help for Syrians and Palestinians in the camp. We all have human needs and it's difficult for everyone."