Syria conflict: 'Deal reached' on Homs civilian evacuations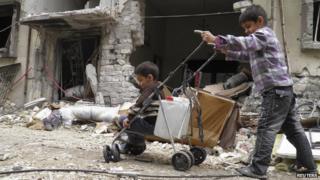 The Syrian government says a deal has been reached to allow what it terms "innocent civilians" to leave besieged areas of the city of Homs.
Women, children, the elderly and the wounded will be allowed to leave, according to an agreement between the city's governor and the UN, the foreign ministry said.
Parts of Homs Old City have been under army siege since June 2012.
The United Nations welcomed reports of a humanitarian pause in the fighting.
Farhan Haq, spokesman for the UN Secretary General Ban Ki-moon, said the UN and its partners had pre-positioned supplies on the outskirts of Homs "ready for immediate delivery as soon as the green light was given by the parties for safe passage".
Aid staff were also on standby, he said.
A spokeswoman for the US state department welcomed the reports.
"An evacuation is not a substitute for the safe, regular and unfettered delivery of humanitarian assistance to those in need," said Jen Psaki.
"We should not be giving credit to a regime just for providing food for a few days to people who are starving, given that's the right moral thing to do.
"This is something they should have been doing all along."
The Syrian Red Crescent told the BBC that the hope was for an evacuation to take place on Friday, and for supplies to be taken in to remaining civilians the following day.
Peace talks in Geneva last month between the Syrian government and the opposition failed to reach a deal on a potential evacuation.
There has not yet been a statement from the rebels in response to Thursday's reports.
In a separate development, Syria said that accusations it was delaying the destruction of its chemical weapons stockpile were "absolutely unjustified".
Deputy Foreign Minister Faisal al-Mekdad said his country was "doing its best" to comply with the timetable for destruction set out in the UN-backed agreement on the future of Syria's stockpile.
'Rancour'
Homs has seen some of the most intense fighting of the three-year civil war and much of the city lies in ruins.
Living conditions for those trapped in the besieged zone are believed to be dire. Food is scarce and there is little access to medical supplies.
The BBC's Jim Muir, in Beirut, says that it has taken many days of detailed negotiations on the ground for this deal to be reached. There is little trust and much rancour between the two sides, he adds.
In the past, similar plans for an evacuation of civilians have gone off the rails at the last minute.
Homs - Syria's third largest city - has been a key battleground in the uprising against President Bashar al-Assad.
Much of the city initially fell under rebel fighters' control, but government forces have since retaken many areas, forcing the opposition into the Old City.
Up to 3,000 civilians are believed to be trapped there.