UAE president's condition 'reassuring' after stroke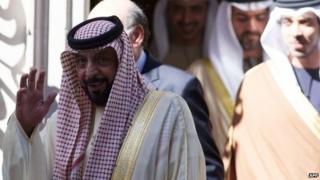 The president of the UAE is in a "stable and reassuring" condition after surgery following a stroke late last month, his half-brother has said.
Sheikh Khalifa bin Zayed Al Nahyan had "passed through a difficult crisis" but "overcome it", the official news agency quoted Abu Dhabi Crown Prince Sheikh Mohammed bin Zayed Al Nahyan as saying.
The state did not want to hide news about the president's health, he added.
The 66-year-old ruler of Abu Dhabi suffered the stroke on 24 January.
He has not made a public appearance since then.
Sheikh Khalifa became the president of the United Arab Emirates in 2004, when he succeeded his late father Sheikh Zayed bin Sultan, who founded the federation in 1971.
In 2009, he was re-elected for a second five-year term by the rulers of the seven emirates, which also include Dubai, Sharjah, Ajman, Fujairah, Umm al-Qaiwain and Ras al-Khaimah.