Egypt court acquits acquits pro-Morsi protesters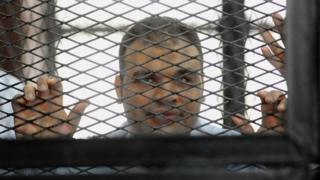 A court in Egypt has acquitted more than 60 supporters of ousted President Mohammed Morsi who were arrested during a violent protest last year.
Judges also cleared a cameraman working for the broadcaster Al-Jazeera.
The men, most of whom have links to the banned Muslim Brotherhood, had been accused of attempted murder and rioting following deadly clashes in Cairo.
They were demonstrating against Mr Morsi's removal from power by the military in July 2013.
Egypt's first democratically elected president is currently facing four separate trials on various charges.
Islamists have staged regular protests demanding his reinstatement, but have been met with a heavy crackdown in which hundreds have died.
The interim government has declared the Muslim Brotherhood a terrorist organisation and arrested thousands of its members since last year.
Media under attack
Cameraman Mohamed Badr and 61 other people went on trial in December, accused of involvement in violence during the protest in central Cairo on 15 July.
Hundreds of Morsi supporters gathered at Ramses Square and some overran a police station. Clashes between ensued, leaving seven dead and more than 260 injured.
Al-Jazeera rejected the allegation that Mr Badr was a protester, and said he was merely covering the event.
As the judge announced the acquittals on Sunday, defendants and their families shouted "Justice is done" and "Allahu Akbar" (God is Great).
Prosecutors said they were considering an appeal.
The media has increasingly become a target in the authorities' crackdown on dissent, the BBC's Bethany Bell, in Cairo, reports.
Last week, Egyptian prosecutors filed criminal charges against 20 other Al-Jazeera journalists, accusing them of conspiring with the Brotherhood, our correspondent says.
They include former BBC correspondent Peter Greste who was been held for more than a month with his producers, Mohamed Fahmy and Baher Mohamed.
They were arrested on 29 December in Cairo for allegedly holding illegal meetings with the banned Muslim Brotherhood.
In late January, Mr Greste sent a letter from Cairo's Tora prison, calling the detentions an "attack on the freedom of speech".
Another Al-Jazeera staff member, Abdullah al-Shami, has been in detention since August.