Row over demand for Palestinians to recognise Israel as 'Jewish state'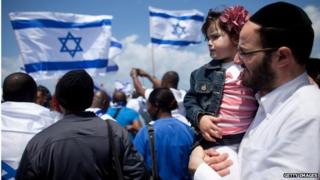 In the port of Jaffa, Israeli Arab fishermen pick the last of their catch from green nets as the surrounding restaurants serve up seafood to tourists and local diners.
Prior to the creation of the state of Israel in 1948, this was a predominantly Arab city. Since 1950, it has been part of Tel Aviv and is now mostly Jewish. Muslims and Christians make up about a third of Jaffa's population.
Many residents working or relaxing in the winter sun naturally steer clear of difficult political conversations about the Israel-Palestinian peace talks.
However there is a clear division when they are pressed for an opinion on the Israeli prime minister's demand for recognition of the country as a "Jewish" state.
"I think Bibi [Benjamin Netanyahu] should totally ask for that because that's the important point: it's a religious fight, it's not about land," says Janine.
"Hardcore Muslims aren't able to recognise Jewish people as human beings with the right to be in this country. The Western world thinks it would be nice to take this point away but you can't."
At a nearby table, Mahmoud strongly disagrees with Mr Netanyahu's approach. He fears the impact it will have on him and other members of Israel's Arab minority.
"Every week we hear new reports that this is a Jewish state, there will be a transfer of the Arab population, we will be sent into exile. We ignore them. We are staying steadfast in our land," he says.
"The Israeli prime minister is following a strategy to put pressure on the Palestinians as they cannot accept this label. Meanwhile he creates a good impression to foreign countries that he's trying to achieve peace."
Framework for peace
With talks between Israel and the Palestinians on rocky ground the US Secretary of State John Kerry is soon expected to present both sides with a framework peace agreement.
Unconfirmed reports suggest that this will involve a phased Israeli withdrawal from the West Bank with special security arrangements in the Jordan Valley.
However it is also said to include no pullout from certain Jewish settlement blocs with the Palestinians offered Israeli territory in exchange.
The proposal is understood to involve a capital for a Palestinian state in East Jerusalem but no right of return for Palestinian refugees to Israel. At the end of negotiations, Israel would be recognised by the Palestinians as the nation state of the Jewish people.
An Israeli security conference in Tel Aviv last week gave the Israeli and Palestinian leaders another chance to set out their positions.
Mr Netanyahu presented recognition of a Jewish state as an elementary component of true peace.
He said this was "at the root of the conflict" tracing it back to riots in Jaffa in 1921, soon after his late grandfather arrived from Poland.
"There were no settlers there; there were no settlers as they are defined today. There were no [West Bank and Gaza] territories. There was a basic objection to any Jewish presence, an objection that grew," he said, going on to list violence over the years.
The prime minister gave an account of the Jewish people's deep connection to the land.
"We have been here continuously for nearly 4,000 years - 3,800 years. This is the land where our identity was forged; this is our homeland; here is our country that was reborn. And the Palestinians must accept this," he said.
He suggested that recognition would "end the conflict" as it would mean cancelling the "right of return" for Palestinian refugees and further territorial claims.
Changing focus?
It was noticeable that an interview with the Palestinian President Mahmoud Abbas screened at the same Institute for National Strategic Studies (INSS) event avoided the subject of recognising a Jewish state of Israel.
However, Mr Abbas did stress the benefits that peace could bring.
"A solution will give the state of Israel recognition from 57 Arab and Muslim states. This will be full recognition that brings diplomatic ties," he said.
The Palestinians themselves - represented by the Palestine Liberation Organisation (PLO) - officially recognised Israel more than two decades ago just prior to the Oslo peace accords. However they have refused to recognise its Jewish character.
There are concerns about the implications this would have for Palestinian refugees from the 1948 and 1967 Arab-Israeli wars and for the rights of Arabs who make up approximately 20% of Israel's population.
Palestinian officials say that the demand for recognition has increasingly been made in recent years and months as an Israeli ploy to make a peace deal harder to reach.
Speaking to foreign journalists in Ramallah recently, former negotiator Nabil Shaath complained that the issue was preoccupying Mr Kerry even though it was not included in past talks or any signed documents or agreements between Israel and the Palestinians.
"The only solid statement about the agenda of the permanent-status negotiations is in the Oslo Declaration of Principles, which spells out exactly the agenda to be discussed and that includes Jerusalem, borders, settlements, water, security and refugees," he said.
Mr Shaath stressed that the Egyptians and Jordanians did not have to recognise Israel as a Jewish state when they signed peace treaties.
"Do you think that any Palestinian leader in his right mind can ever accept this or is this simply an attempt to make it impossible for any Palestinian leader to sign a peace agreement with Israel?" he asked rhetorically. "This is a new torpedo for the blame game."