Yemeni militants kill 15 soldiers in Hadramawt attack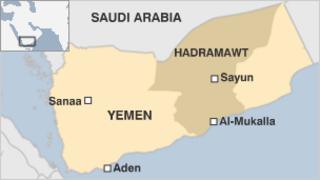 At least 15 Yemeni soldiers have been killed in a militant attack on a checkpoint in the south-eastern province of Hadramawt, officials say.
The soldiers were eating lunch near the city of Shibam when they were ambushed.
The gunmen, who officials suspect of belonging to al-Qaeda, also suffered casualties, but managed to withdraw.
The Yemeni military has been tackling a powerful al-Qaeda insurgency in the south, with Hadramawt hit by anti-government protests in recent weeks.
The province, which is a centre of oil production, is seen as a stronghold for al-Qaeda in the Arabian Peninsula (AQAP).
Battle
Four soldiers were wounded in the attack in the historic city of Shibam on Friday.
"The attackers approached in cars and attacked five soldiers who were inspecting vehicles at the checkpoint, and attacked the rest of the soldiers who were having lunch after noon prayers," a military official told the AFP news agency.
Officials say the battle that ensued lasted nearly half an hour, but the militants managed to "withdraw with their dead and wounded".
In a separate attack on Friday, one soldier was killed and two others were wounded in an attack by gunmen on a checkpoint in al-Bayda province, south-east of the capital.
Yemen has been struggling to restore state authority after opposition protests drove out veteran leader Ali Abdullah Saleh in 2012.
Al-Qaeda militants have taken advantage of the upheaval and breakdown of central government control to gain ground again in Yemen.
Tensions between southerners and the authorities have also been on the rise following the killing of a local chief and his bodyguards at a checkpoint in December.