Syria peace talks due to end in Geneva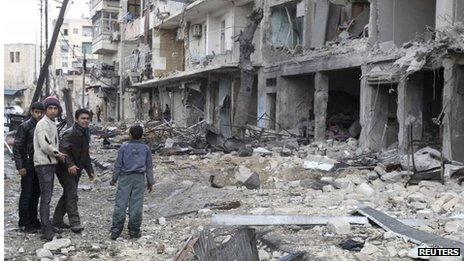 The current round of peace negotiations on Syria is due to end in Switzerland later on Friday, with little or no progress expected on core issues.
After a week of talks at the UN headquarters in Geneva, the opposing sides are still stuck on the question of how to proceed.
UN envoy Lakhdar Brahimi has said he hopes for more progress in next week's second round of talks.
More than 100,000 people have died since the uprising began in March 2011.
In a rare gesture of harmony on Thursday, both sides stood together in silence to remember victims of the violence.
Correspondents say Friday's closing session in Geneva is expected to be largely ceremonial, with government and opposition delegates expected to meet again on 10 February.
"I hope that in the next session, when we come back, we will be able to have a more structured discussion," Mr Brahimi said on Thursday.
He said he was "very, very disappointed" that a UN aid convoy was still waiting to enter the rebel-held Old City of Homs, where the US says civilians are starving.
In a separate development, the UN relief agency UNRWA said it had delivered 720 food parcels to a besieged Palestinian refugee camp in Damascus on Thursday.
Yarmouk camp, which is held by the rebels, is suffering severe shortages of food and medical supplies, with activists reporting dozens of deaths there from starvation.
UNRWA spokesman Chris Gunness described "chaotic scenes" as 700 of the total 900 food parcels brought into the camp were distributed to residents.
He said it was the first aid to reach the remaining 18,000 residents since 21 January, when UNRWA distributed 138 food parcels.
Diplomats have said that a top priority in Geneva is to keep the talks process going in the hope that hard-line positions can be modified over time.
The BBC's diplomatic correspondent James Robbins says there has been little or no progress on basic issues such as ending the violence, sharing political power or allowing humanitarian aid to get to besieged communities.
Even the order in which these problems should be tackled is disputed, he says.
US and Russian officials - co-sponsors of the conference - are in Geneva advising the opposition and Syrian government delegations, their respective allies.
Both sides have agreed to use a 2012 document known as the Geneva Communique as a basis for discussions.
That agenda sets out stages to end the conflict, including a halt to fighting, delivery of aid and the setting up of a transitional government body.
While the opposition wants to start by addressing the question of a transitional government - which it believes would mean President Bashar al-Assad stepping down - the government insists the first step is to discuss "terrorism".
UN Secretary General Ban Ki-moon said on Thursday that the UN would "continue to explore every avenue for progress" in the Syria talks.
He told reporters at a news conference with German Chancellor Angela Merkel in Berlin that the negotiations were "proving to be very difficult, as we expected".
Mrs Merkel said she hoped progress would be made, but added that the talks themselves were "a first success".
"What we need now are humanitarian corridors, because the hardship of the people in Syria is beyond words, and everything should be done to achieve results," she said.