Muted media reaction to Obama's address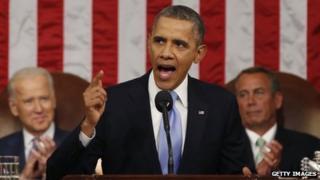 US President Obama's State of the Union address is reported factually in many countries, without it reaching the top of the news agenda.
However, because of his specific remarks on Iran and Afghanistan, media in those countries were quick to report his speech, and it garnered some favourable reaction. Russian and Chinese media were not so positive.
Iran
State-run radio VIRI and English-language Press TV reported Mr Obama's address but other Iranian domestic channels did not.
Press TV interrupted its early bulletin to carry Mr Obama's speech live and almost from the start. Highlighting his backing of diplomatic efforts to resolve the nuclear issue, the TV flashed his intention to veto any fresh sanctions in a screen caption four times.
The TV also says that while Mr Obama pledged to close the Guantanamo prison, he "stopped short of offering any proposal" on how to do so.
Middle East
Qatar's Al-Jazeera and Saudi-funded Al-Arabiya channels both reported foreign-policy aspects of Mr Obama's address - particularly his intention to veto sanctions on Iran - but not very prominently.
Iran's Arabic-language channel Al-Alam led on the veto plan while Al-Arabiya TV mentioned Mr Obama's claim to have forced Syria to hand over chemical weapons. Al-Jazeera TV mentioned his confirmation of the Afghan withdrawal timetable.
The Israeli media did not comment prominently, being more concerned with domestic and regional issues.
Afghanistan
Mr Obama's address was one of the top stories on Afghan TV channels with several politicians and pundits welcoming the fact that Mr Obama did not criticise Kabul's refusal to sign the Bilateral Security Agreement allowing for some form of US military presence in Afghanistan after the end of 2014 when most troops are due to leave.
"Obama reacted patiently to the tensions created by the Afghan president," Rights and Justice Party member Abass Nowyan told a debate on independent Channel One TV.
Civil society activist Ajmal Baluchzada echoed this view on independent Tolo TV News. "Obama has exercised caution with political wisdom," he said, noting that the US president wanted diplomacy to succeed in both Iran and Afghanistan.
However, Senator Gol Ahmad Azami criticised Obama for saying that terrorism had been defeated.
"Although Afghanistan is currently the fiercest war zone in the world, they [Obama] did not speak about it for more than a minute," he told Channel One TV.
Russia
Russian state TV channels either ignored Obama's address or carried mostly factual reports lower down their running orders.
State-owned news channel Rossiya 24 featured a brief presenter-read report. The presenter concluded the report by criticising Mr Obama for keeping only two of his 40 promises from last year.
"Most promises remained words, which is common for US presidents," the presenter said, adding that Mr Obama was "average" in terms of US presidents' failure to deliver on their pledges.
There were more stinging comments from the privately-owned TV channel REN TV, which said: "Obama is getting closer to gaining the status of a 'political outsider'. The White House chief has all the opportunities to become a lame duck, especially after today's traditional address to the nation."
China
In a commentary by the state-run Xinhua news agency criticised Mr Obama for sticking to his Asia-Pacific strategy.
"It is time for Washington to revisit its pivot policy, stop spoiling its mess-making allies, and play its due responsible role in the region," wrote Xinhua reporter Liu Chang.
He added that China and US should do their utmost "to deepen mutual trust especially in their political and military interactions".
The Hong Kong-based South China Morning Post said Mr Obama was having to tread cautiously because of elections next year.
"The president had a fine line to walk on Tuesday: projecting the optimism and energy that dispirited members of his party, and the public at large, are hungry for, without over-promising in an election year", it said.
BBC Monitoring reports and analyses news from TV, radio, web and print media around the world. For more reports from BBC Monitoring, click here. You can follow BBC Monitoring on Twitter and Facebook.