Bahrain urged to investigate death in custody of Fadel Abbas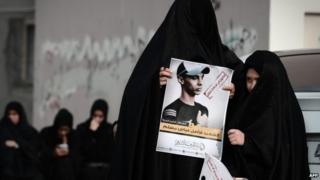 Amnesty International is calling on the Bahraini authorities to investigate the death in custody of a 19-year-old man.
Fadel Abbas was shot in the head when security forces tried to arrest him as he went to visit a recently released prisoner in Markh, the group says.
The interior ministry says Abbas was shot by police on 8 January when he "purposefully" drove a car at them.
But activists allege he sustained bullet wounds in the head and leg injuries during a violent altercation.
The main Shia opposition political grouping, al-Wefaq, meanwhile claims Abbas died as a result of "savage" torture during his detention.
Besides a wound to his head, his body showed signs of "bruises on his back, around the neck and on his face", a statement said on Sunday. He also had a "deep wound to the right shoulder", it added.
Abbas's family also say that they were not told that he had been arrested when they asked police about him after he went missing.
His mother says that the Bahrain's Criminal Investigation Directorate only contacted her on Sunday to inform her of his death, while the interior ministry insists Abbas's family were allowed access to him on 13 January.
There were clashes between protesters and security forces after thousands attended Abbas's funeral in Diraz on Sunday.
'Inaccurate conclusions'
Amnesty's Middle East and North Africa deputy director Said Boumedouha said: "Bahrain's authorities must come clean and open a full, independent investigation to establish the truth about the death of Fadel Abbas. Those responsible for his death must be held to account."
"The conflicting information that has emerged over the version of events that led to his death makes such an investigation even more urgent."
The head of Bahrain's General Directorate of Criminal Investigation and Forensic Science accused "some groups" of aiming to politicise Abbas's death and encouraging the public to "jump to inaccurate conclusions".
A statement said Abbas was injured while resisting arrest in connection with a case involving a substantial amount of weapons and high-grade explosives smuggled into Bahrain by boat.
Abbas had attempted to "run over a policeman despite being warned off multiple times, both verbally and by warning shots", it added. Finally, the police were "forced to use their weapons to defend themselves and stop the oncoming car".
The statement said Abbas was immediately referred to hospital, that his family was notified of the incident, and that they visited him in hospital.