Jihadist way of life in Jordan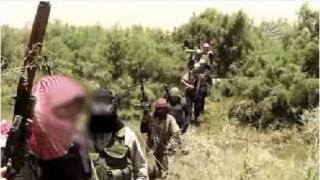 About 25km (16 miles) east of the Jordanian capital, Amman, lies the city of Zarqa, a stronghold of the country's shadowy Salafi-jihadist movement.
It was the hometown of Abu Musab al-Zarqawi, the leader of al-Qaeda in Iraq, who was killed in a US air strike in 2006. One of its current residents is a jihadist - "Abdullah" - who has recently returned from fighting in Syria.
Abdullah (not his real name) was helped by smugglers to cross the border into Syria. On his return he was arrested, but later released.
In Abdullah's living room, a jihadist black flag hangs on the wall, an open symbol of affiliation with the movement.
The allegiance was reinforced when Abdullah's father welcomed the BBC crew wearing a salwar-kameez, an outfit commonly worn by jihadists in Jordan.
Abdullah's father is an old jihadist veteran. He was a friend of Zarqawi, and of Zarqawi's spiritual mentor Abu Mohammed al-Maqdisi, considered one of the world's most influential jihadist ideologues.
Maqdisi has been in prison in Jordan since 2011.
'Religious duty'
Abdullah said he went to Syria to defend his "Muslim brothers and sisters suffering from the Nusayri infidel regime", a derogatory name used by jihadists to describe the Alawite sect of President Bashar al-Assad.
He said he considered it his religious duty.
Since the war in Syria began three years ago, the country has become a magnet for jihadists from all over the world. The most prominent jihadist rebel groups there are the al-Nusra Front and the Islamic State in Iraq and the Levant (ISIS).
Jihadists we spoke to in Jordan told us that the ability of individuals to cross into Syria depends on their record with Jordan's security services.
If a jihadist has no record and is unknown to Jordanian intelligence he can travel through Turkey and join Isis, which is influential in parts northern Syria.
However, if a person is known to security, like Abdullah, he will seek to be smuggled across the Jordanian-Syrian border and join the Nusra Front, which is strong in southern Syria.
Jihadists in Jordan estimate the number of their followers in Syria to be about 700 to 1,000.
The figures cannot be verified independently.
When Abdullah called his father to say that he was coming back from Syria, his father was angry. He could not accept it until Abdullah told him he had a "religious justification" allowing him to leave the jihadist battlefield.
Abdullah would not disclose what the "justification" was.
Strong bonds
Abdullah's father told us that he had several children and had sent none of them to state schools.
Some jihadists are wary of sending their children to state schools, which they consider to be associated with "infidel regimes" of Arab governments, including Jordan's.
Abu Mohammed al-Maqdisi wrote a book entitled Preparing the Knights For Abandoning the Schools, which is influential among jihadists.
Abdullah's father told us of an occasion when one of his nephews proposed to one of his daughters.
Although Jordan has a strong tradition of marriage between cousins, Abdullah's father refused because his nephew was a policeman - "a servant of an infidel regime", he said.
He considered the salary the policeman takes from the state as haram, or unlawful.
Instead, he married his daughter to the son of another Salafi-jihadist in Jordan. He says that "brotherhood" between the movement's members is stronger than family or tribal ties.
Abdullah and his father said that jihadists in Jordan socialise in many ways, including at wedding parties and at funerals of jihadists killed in combat.
Jihadists regard these funerals as weddings because of the praise given to the way the deceased died. They are usually celebrated with poems, speeches and hymns that encourage jihad, and remember those who have become "martyrs".
Jordanian government spokesman Mohammed al-Momani told the BBC that the authorities dealt with jihadists according to the law. He said it was difficult to say how many jihadists there were in Jordan.
This might reflect the fact that the jihadist movement in Jordan is as much a socio-political movement as it is a structured organisation of fighters.