Iraq Anbar violence sparks civilian search for safety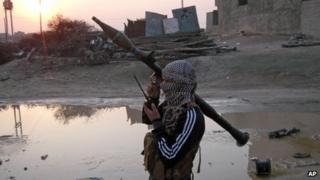 After weeks of fighting between militant groups and Iraqi forces in Anbar province, civilians caught in the middle have been fleeing for safety. For many of the Sunni families the plight is desperate, but safe places of refuge are being found, including among Iraqi Shia, as BBC Arabic's Nahed Abouzeid in Baghdad reports.
It is hard to speak with any level of certainty nowadays about Anbar, Iraq's largest Sunni province. Whatever trickles of information that do come out are carefully choreographed, amid a war of propaganda on both sides.
What is certain, though, is that one of the consequences of the violence in Anbar has been the creation of the biggest wave of displaced people in Iraq since sectarian fighting from 2006 to 2008.
A recent report by the United Nations High Commission for Refugees (UNHCR) put the number of internally displaced people (IDPs) at 140,000.
Some 65,000 people fled their homes in the third week of January alone, under a barrage of shelling from the Iraqi army and fear of extremist militant groups linked to al-Qaeda.
Sources from inside the cities of Ramadi, the provincial capital, and Falluja, where some of the fiercest violence has taken place, say hardly a day goes by without mosques broadcasting appeals for blood donors, for medical professionals to join the few facilities still operating, and for volunteers to help civilian evacuations.
Sabah Karhoot, the chairman of the provincial council of Anbar, is reported to have appealed for international help for hundreds of families without food or shelter.
Severe shortages
The military siege gripping Anbar for a number of weeks turned major supply routes into battlefields and contributed to a severe shortage of food, fuel and medical supplies.
"Many civilians are unable to leave conflict-affected areas where food and fuel are now in short supply," said UNHCR spokesman Peter Kessler.
"People are reportedly without money for food and lack suitable clothing for the rainy conditions. Children are not in school and sanitary conditions, particularly for women, are inadequate."
Thousands of displaced people have fled to Baghdad and other nearby provinces, and some have travelled as far as the northern Kurdish region.
In the absence of a clear government plan to deal with a fast-approaching humanitarian crisis, the only international response on a large-scale so far is a camp recently established by the UN in Iraqi Kurdistan.
Otherwise, things are left to the local or provincial authorities, while in remote areas people share their houses with some of the displaced families.
Safe passage
When I visited Karbala, the predominantly Shia province in the centre of Iraq, I saw the effects of the tragedy first-hand.
The Sunni families arriving at the only crossing point between Anbar and Karbala were tired, terrorised and desperate.
They talked of large parts of their towns and villages almost deserted except for armed groups.
Ironically, this checkpoint where the IDPs [internally displaced persons] are met and processed used to be a very dangerous inland road during past sectarian conflicts.
Today, it has become the only lifeline for the Sunnis in Anbar fleeing and seeking refuge among the Shia of Karbala.
I met Umm Ahmed, a heavily pregnant woman who was accompanied by three of her female relatives and friends.
While waiting for her male driver to clear their passage with the army officers manning the checkpoint, she told me that she came from Falluja, but could barely make her voice heard.
The woman next to her took over. "She's about to give birth, but we couldn't take her anywhere safe," she said. "We hope to make it to a Karbala hospital in time to save her and her baby."
Normally, they would have been asked to cross on foot and find a taxi on the other side. On that day, the soldiers made an exception. They let them drive through.
In Karbala, accommodation usually designated for pilgrims visiting the holy city was ordered to open by senior Shia clergy.
One Shia official said: "Our Iraqi brothers and sisters of Anbar and their families can stay here as long as they feel necessary."
'No divide'
Half-an-hour's drive from the administrative border is the agricultural town of Ain al-Tamr. With its limited resources, the local library has been turned into a relief centre.
The reading room doubles as a processing facility for displaced families and a makeshift distribution store for humanitarian aid.
Abu Ali is a tribal elder in Ain al-Tamr, who has taken in a number of families from Falluja. Abu Ali meets them in his guesthouse regularly to assess and see to their needs.
Seated in a large hall on the floor covered with Persian rugs that have seen better days, they tell me that the talk of a Sunni-Shia divide exists only in the heads of Iraq's politicians.
Mustafa, an 11-year-old boy with ambitions to become a doctor or a teacher, looked distressed when we asked why he was not at school.
He misses his schoolfriends, of whom he has no news.
But if they cannot return home soon, Mustafa and his new refugee friends want to be allowed places at the local school, so they can continue to hope for a better future.