Israeli troops shoot dead Palestinian in north Gaza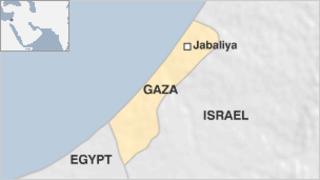 Israeli forces have shot dead a Palestinian man and wounded another in a cross-border incident in the north of the Gaza Strip.
The Israeli military said the shooting happened after Palestinians threw rocks and rolled burning tyres toward soldiers at the border with Israel.
Palestinian health officials described the dead man as a 20-year-old civilian.
Israel prohibits anyone from entering a "buffer zone" it maintains inside Gaza to prevent attacks by militants.
The Israeli army said several Palestinians had entered "a prohibited area" east of Jabaliya where they damaged the security fence.
"The soldiers tried to distance the crowd using riot dispersal means and firing warning shots in the air," a military spokeswoman told AFP news agency.
"After all efforts were exhausted, the soldiers fired towards two main instigators."
Ashraf al-Qudra, a spokesman for the Hamas-run health ministry, said Bilal Samer Oweidah died after being shot in the chest.
Tensions have been high since an Israeli air strike on Wednesday killed two Palestinians in northern Gaza.
Israel said the strike had targeted a militant who was behind several rocket attacks, including one after former Prime Minister Ariel Sharon's funeral last week.