Two militants killed in Gaza Strip air strike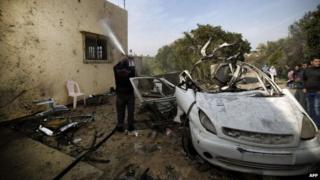 Two Palestinian militants have been killed by an Israeli air strike in the northern Gaza Strip, officials say.
The Israeli military said one of the dead was Ahmad Zaanin, whom it called a senior operative in the Popular Front for the Liberation of Palestine (PFLP).
He was behind several rocket attacks, including one after former PM Ariel Sharon's funeral last week, it added.
But local Palestinians said Zaanin and the other man killed in the air strike, his cousin, belonged to Islamic Jihad.
Islamic Jihad, which has been blamed by Israel for a recent surge in rocket and mortar attacks, confirmed Zaanin was a member but did not comment on the other man's affiliation.
"The blood of martyrs will not be wasted. It will be a curse that expels the occupier," the Islamist group said in a statement.
'Clear policy'
Zaanin and his cousin were sitting in a parked car in the town of Beit Hanoun when it was hit by a missile, locals told Reuters news agency.
Israeli military spokesman Lt Col Peter Lerner said its air force had targeted them "in order to eliminate an imminent threat to the lives of Israeli civilians".
Zaanin had "actively planned to launch rockets at Israeli communities in the south", and since 2009 had "endorsed numerous attacks such as sniping attacks and detonating explosive devices" against Israeli soldiers, he added.
The air strike took place just hours after Israeli Prime Minister Benjamin Netanyahu warned Hamas, the Islamist movement that governs Gaza, and other militant groups that it would carry out pre-emptive strikes to counter the launching of rocket and mortars at Israel.
"We have a very clear policy of foiling terrorist attacks when we identify their forming and of responding firmly to those who harm us," he said.
"This policy has yielded a quiet year in 2013, the quietest year in many, and if Hamas and the terrorist organisations have forgotten this lesson then they will learn it, with great force, in the near future."
Islamic Jihad spokesman Daoud Shihab told the Maan news agency that Israel was attempting to "disavow" the ceasefire that ended an eight-day conflict with militants in Gaza in November 2012.
Palestinian factions were "not interested in escalation, but if Israel insists and continues with targeted assassinations, they have to bear the consequences," he added.
On Sunday, another militant in Gaza was wounded in an air Israeli strike. The Israeli military said Ahmed Saad was a member of Islamic Jihad who specialised in launching rockets.