Iraq executes 26 men on 'terrorism' charges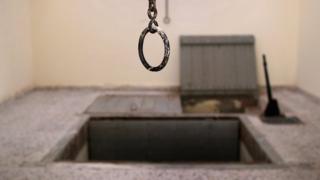 Iraq has executed 26 people convicted of "terrorism" offences, according to officials.
The deaths came despite international criticism of the country's increasing use of capital punishment.
The justice ministry said Adel al-Mashhadani - allegedly a leader of a local Sunni militia known as Sahwa - was among those put to death on Sunday.
Iraq executed at least 151 people last year, up from 129 in 2012 and 18 in 2010, according to Human Rights Watch.
'Brutal crimes'
It follows calls from the UN High Commissioner for Human Rights for an immediate halt to executions in Iraq. A spokesman for Navi Pillay said in October large-scale killings were "obscene and inhumane".
The claim that the death penalty helped deter terrorism was a "fallacy", given the surging violence in Iraq, the spokesman added.
"The justice ministry carried out the executions of 26 men convicted of crimes related to terrorism on Sunday," a justice ministry statement said on Tuesday, adding that all of those put to death were Iraqis.
It said Mashhadani was "famous for sectarian crimes". He was a leader of a Sahwa, or Awakening Council, in Baghdad, according to reports.
"All 26 who were executed carried out brutal terrorist crimes against the Iraqi people, and they were tried and condemned, and the verdict was approved by the presidency," Justice Minister Hassan al-Shammari said.
He added that the ministry would "continue to carry out sentences against those who have been condemned, after the final decision has been made".
The Iraqi government maintains that it only executes people who have committed terrorist acts or other serious crimes against civilians.
The findings published in Human Right Watch's annual world report on Tuesday put the number of executions in Iraq at its highest since the US-led invasion of 2003.
It is broadly in line with other tallies. The UN said 140 people had been put to death - usually by hanging - in the months leading up to October last year.
"Iraq's increased use of the death penalty, often after unfair trials in which many prisoners report having been tortured into confessing crimes, is a futile attempt to resolve the country's serious security and justice problems," said Phillip Luther, Middle East and North Africa Director at Amnesty International, in November.
There has been a surge in sectarian violence across Iraq in the past year, reaching levels not seen since the peak of the sectarian conflict in 2006-2007.
The United Nations says 7,818 civilians and 1,050 members of the security forces died in 2013 - the highest toll for five years.