Israel to return bodies of Palestinian militants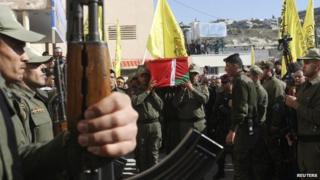 The Israeli military says it has begun to exhume the bodies of a number of Palestinian militants to return them to their families for burial.
The move came after the Israeli Supreme Court ruled in favour of an appeal by the dead militants' relatives.
On Sunday, the body of a man killed 12 years ago was returned.
Majdi Khanfar, who took part in an attack on a checkpoint in which an Israeli soldier died, was buried in the West Bank town of Jenin on Monday.
The remains of two other Palestinian militants are expected to be returned on Tuesday.
The Israeli military has not confirmed the number or the identities of the dead, but one activist said she expected a total of 36 bodies to be handed over in the coming days.
The BBC's Yolande Knell in Jerusalem reports that over the years, Israel has interred the bodies of many Palestinian militants killed in attacks on Israelis at special cemeteries.
It has returned them intermittently, usually during amnesties or prisoner exchanges, she adds.
This latest transfer of bodies comes shortly after the third batch of long-term Palestinian prisoners were released by Israel, as part of a deal that led to the resumption of US-brokered direct peace talks.