Iran press divided over Geneva deal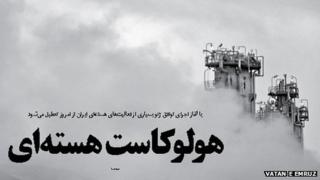 As a nuclear deal between Iran and world powers takes effect, the Iranian press is bitterly divided over its future implications.
While most dailies - reformist, moderate and even some conservative papers - welcomed the implementation of the agreement, hard-line papers did little to hide their anger. Vatan-e Emruz newspaper published its front page in black and white to express its discontent.
"Great agreement"
General optimism is reflected in buoyant headlines splashed across Iran's reformist and moderate newspapers.
"Implementation of the great agreement begins" and "No more pressure from today" appear on Ebtekar and Arman dailies.
"Everyone is waiting for a desirable end to Iran's nuclear dossier," Davud Hermidas-Bavand writes in moderate daily Arman. He says the "Obama administration is seriously willing to put an end to this issue" and notes that a positive report from the inspectors who will visit the sites would slow down any Iranian domestic opposition to the deal.
Hoseyn Raghfar in the reformist paper E'temad praises Iran's foreign ministry for engaging directly with the United States and calls on both Tehran and Washington to try to move towards mending ties in spite of some lingering domestic opposition. "The fact of the matter is that there are groups inside both Iran and the United States who can only secure their interests if hostile relations continue," he says.
"Nuclear holocaust"
But other voices in the media feel that Iran has already conceded too much. Vatan-e Emruz describes the deal as a "nuclear holocaust" and lashes out at President Hassan Rouhani's administration for failing to secure Iran's interests during the Geneva talks.
"The government should not have acted so eager about reaching an agreement in Geneva," Naser Nowbari writes in the paper. He says it was America that did not have time on its side, considering that its strategic capabilities are being stretched elsewhere such as in Afghanistan and Syria.
Nowbari adds that "the Geneva agreement practically made us put down our sword and shield while the rival still holds onto its sword and shield" and that there is nothing in the agreement to allow Iran to "defend our red lines".
Hard-line newspaper Keyhan, which is generally regarded as the Supreme Leader's mouthpiece, criticizes President Rouhani, saying he kept people in dark.
"The country's esteemed authorities speak less about what we have given and talk more about what we have gained. However, when the text of the agreement is analysed, what we have given is not comparable with what we have gained," the paper's editorial says.
Iran should continue an uncompromising line that has worked before, Keyhan points out. "[In] the past 30 years, the great powers - out of compulsion, not by choice - have surrendered many times to the Iranian nation and in all cases, steadfastness and determination were the factors that worked."
But the hard-line newspaper Jomhuri-ye Eslami is of the opinion that the Geneva deal, while falling short of an outright victory, can be considered a success for President Rouhani.
"Certainly, the Geneva deal has been reassuring for the Iranian people and can be considered as a 'win', but we cannot negate the reality that the agreement was a 'win' for the world powers as well," it says. "It is true that we expect the Iranian nation to always win in all fields and we want the rival who has used illegitimate means to exert pressure on our nation to get nothing. But we could not expect more considering the conditions created by the previous government."
BBC Monitoring reports and analyses news from TV, radio, web and print media around the world. For more reports from BBC Monitoring, click here. You can follow BBC Monitoring on Twitter and Facebook.