Israel in first UAE visit since murder of Hamas al-Mabhouh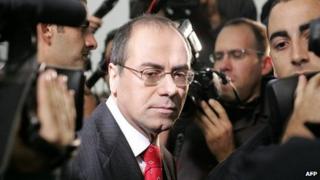 Israel's energy minister is to travel to the United Arab Emirates - the first such visit since the 2010 assassination of a Hamas commander in the Gulf state.
Silvan Shalom will attend a renewable energy conference in Abu Dhabi.
The visit could mark an improvement in ties between Israel and the Gulf states which share unease over Iran's rising power in the region.
Israel was suspected of killing Mahmoud al-Mabhouh of Hamas in Dubai, although Israel said there was no evidence.
Dubai police said at the time that they were 99% sure that members of Israel's Mossad service were involved in the killing of Mabhouh, one of the founders of Hamas's military wing who was wanted for the alleged murder of two Israelis.
He was found dead in a hotel room on 20 January 2010.
Forged passports from several Western countries were used by the 30 suspects identified, leading to a series of diplomatic rows with Israel.
The UK, Irish Republic and Australia all expelled Israeli diplomats later that year.
Days before the killing, an Israeli minister took part in a similar conference in Abu Dhabi. But the incident led to Israelis being barred from entering the UAE.
Mr Shalom's spokesman was quoted by the Jerusalem Post as saying Israel was a full member of the International Renewable Energy Agency and it was inconceivable it could not attend the conference.