US probes images of marines 'burning dead Iraqis'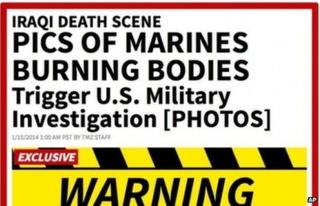 The US Marine Corps says it is trying to determine the authenticity of images published by a celebrity gossip website that appear to show marines burning the bodies of dead Iraqi insurgents.
The website TMZ has published eight photographs and says it has a further 33 that are too graphic to show.
TMZ said it was told the photographs were taken in Falluja in 2004.
A Pentagon spokesman said the actions depicted in the photos "are not what we expect from our service members".
"We are currently investigation the veracity of these photos, circumstances involved, and if possible, the identities of the service members involved," Marine Capt Richard Ulsh said in a statement.
"The findings from this investigation will determine whether we are able to move forward with any investigation into possible wrongdoing."
The series of photos show a man in marine uniform pouring what appears to be flammable liquid on dead insurgents, and then setting them ablaze.
Other pictures show bodies on fire and charred remains.
In one image, a marine is seen posing next to a skull.
Falluja was the scene of some of the fiercest fighting between US forces and insurgents during the Iraq war.