How Syria sank into all-out civil war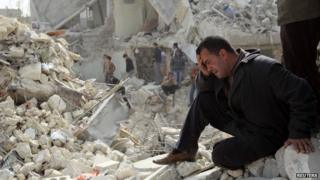 A major diplomatic effort to resolve the Syrian conflict is set to take place in Switzerland next week. With over 100,000 people killed since the fighting began, the BBC's diplomatic correspondent James Robbins looks at why the war in Syria has lasted so long.
Over the last three years, Dr Omar Gabbar has watched Syria disintegrate.
The consultant spinal surgeon from the UK city of Leicester is a regular visitor to the country his father grew up in, travelling there as a volunteer for the charity Hand In Hand For Syria.
He believes the conflict has already created a lost generation of Syrians.
"Just imagine if your child cannot go to school for two or three years, just imagine you can't go out and earn a living, let alone provide the basic dignity to your family," he says.
"This is the time to start thinking like humans, to stop putting more fuel on the fire that's raging in that country and eating away at the innocent people who did not ask for this to come to their land."
So how did small peaceful protests against President Bashar al-Assad in March 2011 spiral into all-out civil war? How did it get this bad?
Locked in stalemate
The former UK Foreign Secretary, David Miliband, heads the International Rescue Committee, an aid agency based in New York.
He says President Assad's forces and rebel fighters are locked in a destructive stalemate.
"No-one, whether internally or externally, has been strong enough to force victory while at the same time none of the sides to this conflict are weak enough to be defeated," he told me.
"That has led a conflict that some people predicted would last months to now have lasted nearly three years, cost an extraordinary number of lives, and have no end in sight."
But was there a point far earlier in the Syria conflict when it might have been possible for Western powers to do more to end the fighting?
Could they - should they - have tried to tip the military balance decisively by arming opposition rebel forces?
Slow response
Bente Scheller from the Heinrich Boll Foundation in Beirut has just written a book about what she calls President Assad's "waiting game".
She believes the international community under-estimated the resilience of the Assad regime.
"In 2011 the international community was so busy watching what was going on in other states of the region that nobody from outside really took the Syrian revolution seriously," she says.
"Assad had all the time in the world to proceed with his strategy of just clamping down on the insurgency, just trying to finish the revolution by military means from the very beginning."
Early hopes among the rebels were dashed.
The opposition's political leaders seemed to many observers to be hopelessly divided. Key world powers were deadlocked too along old Cold War lines.
Islamists and jihadist fighters took advantage of this power vacuum, enabling President Assad to portray himself as the last hope for stability.
Monzer Akbik, Chief of Staff to the head of the opposition Syrian National Coalition, is highly critical of what he sees as the West's impotence over the crisis.
"You could have saved tens of thousands of lives if the international community had taken action, either in 2011 or in 2013 when the chemical weapons were used," he says.
"Today, Assad is still carpet-bombing. He is still torturing people to death. He is still committing war crimes. And still there is no action whatsoever from the international community."
Some politicians who watched the crisis unfold are now agonising over the West's decision not to intervene.
"If a policy of non-intervention produces what we've seen in Syria, is that genuinely better than the consequences of intervention?" asks Alistair Burt, who was the Foreign Office minister responsible for Syria until October 2013.
"I think the jury is out and I think as time has gone on the imperative to support more actively the opposition has become stronger. That's become my view," he adds.
Future with Assad?
If the Syrian opposition and its supporters sometimes played what could look like a good hand of cards badly, by contrast has President Assad played a relatively poor hand well?
President Assad's strategy has been consistent: do whatever is necessary to ensure regime survival. It's an approach that worked for his father, who was accused of slaughtering tens of thousands of Syrians in the 1980s while the rest of the world largely looked away.
The present regime has been weakened, but has still managed to confound predictions of its imminent collapse, partly because it has powerful backers in Russia, Iran and Lebanese Hezbollah fighters.
President Assad relies on foreign forces to strengthen his side, but he has managed to weaken and divide his enemies too.
The growing strength of Islamist and jihadist fighters has also allowed President Assad to argue that any alternative to him would be worse than the status quo.
Former US ambassador Ryan Crocker is among those urging the West to reconsider the unthinkable - a future Syria still controlled by President Assad.
He believes the alternative is that an al-Qaeda affiliate could seize power in Damascus.
"We rather blithely took the position that Assad must go," he told me.
"But if he goes because the radical Sunni opposition pushes him out we face the prospect of a country in the hands of al-Qaeda.
"As bad as Assad is, I think from a Western perspective that is far, far worse"
The chemical attack in Ghouta last August, far from bringing down President Assad, may have actually prolonged his rule.
Britain and America backed away from taking military action. Instead, President Assad engaged in a process to destroy his chemical arsenal - a move which strengthened him politically.
If some form of peace process does get under way in Switzerland, President Assad's brutal - but so far successful - survival strategy for the regime will face its biggest test yet.