UN's huge aid request for Syria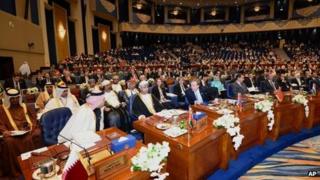 At this week's international donor conference in Kuwait, the UN has made history, asking for $6.5bn (£4bn) to help the people of Syria over the coming year - its biggest request ever for a single crisis. But how much of the money promised so far will actually materialise?
So far, the UN appears to be getting a generous response to this year's huge Syria appeal.
The host nation, Kuwait, has already pledged $500m - and other countries including Saudi Arabia, Qatar, the US and the UK have also promised a substantial amount.
But if the past is anything to go by, raising these large sums of money is far less simple than it might first appear.
For a start, the UN's appeals are very rarely met in full. Last year, it received only 70% of the funds it said it needed for Syria, according to the organisation's Financial Tracking Service ( FTS).
Often it receives even less than that - in fact Jens Laerke, a spokesman for the United Nations Office for the Co-ordination of Humanitarian Affairs (Ocha), said he could not recall any appeal that was completely funded.
And even if the money is pledged, there is no cast-iron guarantee that it will actually materialise.
According to the FTS, more than $500m of the amount promised last year for Syria has not been accounted for.
So is the Syrian crisis going to get the vast amount of money the UN says it needs?
Mr Laerke says there are optimistic signs that donors will be generous.
"The crisis is now in its third year… and yet we are not seeing donor fatigue," he told the BBC, speaking from the one-day conference.
"Donors here understand the situation, and they already pledged $1.6bn, even before lunch."
And while he acknowledged that some of the money promised in these appeals is never seen by the UN, he said it was unlikely that governments had reneged on their commitments.
He said it was more probable that the donations had not been centrally recorded in a way the UN could quantify.
Last year, most of the shortfall in the FTS figures came from the United Arab Emirates and Qatar, countries that are generous regional donors but do not have a long history of donating through the UN system.
While transparency of funding is clearly important, prompt payment is perhaps even more crucial.
Given the nature of governments, proving large amounts up-front is often not possible.
But Sultana Begum, Oxfam's policy advisor for the Syria crisis, urged donors to release their money immediately this time.
"Right now it's a harsh winter, and there are millions of refugees out in the cold, who need the money now," she said.
Massive scale
If the UN appeal generates a figure approaching what it has asked for, the response will be unprecedented.
But then, according to the organisations helping in Syria, the scale of the crisis also has no precedent.
"There are 9.3 million people in the country who need aid. That's more than the population of Switzerland," said Jens Laerke.
And as Sultana Begum points out, this is not just a crisis confined to one country - it's a regional problem, as refugees pour out into neighbouring countries like Jordan and Egypt.
"We expect there will be about 4 million refugees by the end of 2014," she said. "The needs are mind-boggling."
For an individual wanting to make a difference, it can appear to be an insurmountable challenge.
"It's easy to think your money is a drop in the ocean, " said Brendan Paddy, the head of communications for the Disasters Emergency Committee - an umbrella organisation that co-ordinates NGO appeals. "But any amount of money you give will help individuals who've been affected."
He explains that the money raised in meetings like the Kuwait conference goes to "big picture" aid, like logistics and major purchases, whereas other organisations do what he terms the "final mile" - working with local agencies and communities to distribute the aid and make sure no one falls through the cracks in the system.
So both donations are needed - big cash injections from governments and smaller-scale gifts from individuals.
But three years on from the crisis, aid organisations acknowledge that no amount of money will get to the root cause of the problem.
For that, all eyes will be on another conference next week, in Geneva, which aims to find a political solution to Syria's 34-month civil war.