Egyptian media lauds referendum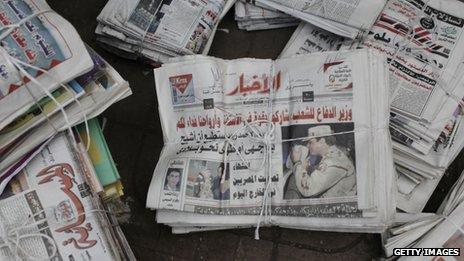 Egypt's constitutional referendum is dominating the country's media, with most outlets urging voters not to miss the opportunity to "shape their political future".
State-run TV Channel One and Nile News TVchannels urge citizens to go out and vote, while the privately-owned ONTV Live is highly critical of the Muslim Brotherhood, which supports a referendum boycott.
Nile News TV broadcast public information advertisements giving instructions on the voting process, urging Egyptians to cast their ballots because "your vote will count". It also showed a heavy army and police presence at polling stations in Cairo and men and women queuing up, including "tribesmen keen to cast their votes".
The TV station repeatedly used the term "democratic ceremony" to describe the referendum, a phrase widely used during the era of President Hosni Mubarak to describe any voting process.
The term has not been observed to be used by any Egyptian state-run media outlet since the revolution of January 2011.
Channel One TV broadcast people saying they would vote for the constitution, with one saying he would do so "for the sake of a respectable, civil state". A political expert interviewed by the TV says the vote is the "fruit of the 25 January 2011 and 30 June 2013 revolutions".
''Yes' means end of Brotherhood'
Like Nile News TV, the privately-owned ONTV Live also broadcast advertisements calling on people to vote in favour of the new constitution, which it said would divert the "intimidation" carried out by the Muslim Brotherhood. "'Yes' ushers in their end", it said. The TV also showed footage of dozens of people holding photos of Defence Minister Abdel Fattah al-Sisi outside a court in Giza where a small home-made bomb exploded before polling stations opened.
In contrast, pro-Brotherhood Ahrar 25 TV broadcast footage of dozens of young people demonstrating in Giza and Al-Fayyum, chanting slogans calling the constitution a "scandal". It also carried a caption saying "low turnout in referendum."
Newspapers have overwhelmingly sponsored a "yes" campaign right up to polling day, with mostly upbeat coverage in both state-owned and private papers. The Brotherhood's Freedom and Justice newspaper and its TV channels have been banned since the ouster of President Mohammed Morsi and the designation of the Muslim Brotherhood as a "terrorist group" by the interim government.
Front pages are flooded with photographs of security forces in Cairo and boxes of ballot papers, and commentaries urge Egyptians to take part.
State-owned Al-Ahram newspaper says: "The people will have their say today and tomorrow" while state-owned daily Al-Jumhuriyah says the votes constitute "a referendum on the future of Egypt."
One of Egypt's most widely-read private newspapers, Al-Yawm al-Sabi, has a headline proclaiming "Yes to the constitution" surrounded by photographs of Egyptians of various social backgrounds.
The private Al-Misri al-Yawm daily says: "It is your day, Egyptians" while the private Al-Shuruq al-Jadid newspaper says "Today, Egyptians vote on the 30 June revolution" that ousted President Morsi.
'Victory against terrorism'
An editorial in Al-Yawm al-Sabi highlights the fact that the future of Egypt cannot be determined by one person alone.
"You have to take part in building a better future and a new life for Egypt, away from religious tyranny, greed for power and the predominance of the individual's interest over that of the nation."
Like many other columnists in the private and state-owned press, Makram Muhammad Ahmed in Al-Ahram says that the passing of the constitution would be a victory against "terrorism".
"This day is for all Arabs because the victory of Egypt in its battle against terrorism means safeguarding Arab national security from the threat of terrorist groups that don't want progress in the Arab world or its security or stability."
Amr Hashim Rabi in private Al-Misri Al-Yawm says Defence Minister Sisi, who could run for president, is likely to take a decision following the referendum results. Ahmad Abd al-Hafiz in the state-owned Al Ahram newspaper also encourages Egyptians to help implement Egypt's "new road map" by voting in favour of the constitution and then electing Mr Sisi president.
However, novelist and columnist Ahdaf Soueif in private Al-Shuruq News asks why there are "huge ads everywhere calling on people to say yes to the constitution, and why are young people being arrested when they try to put up posters against it?"
Social media activists are divided over the referendum, with some Facebook pages and Twitter activists backing it but the pro-Morsi alliance page being vehemently against.
However, the Tamarod (Revolt) Movement, which collected millions of signatures to oust President Morsi updates its cover photo showing a text reading: "Yes for casting ballots in the referendum."
Some social media circles also criticise the military-installed authorities for preventing "no" campaigners from expressing their views in the streets.
Socialist activist Mahinur al-Misri, who was given a jail term for taking part in an unlicensed protest, (@Mahienour) tweets: "I do not think they will rig the vote. They do not have to…. People deserve better than this."
The Christian Copts United Facebook page takes a shot at the Muslim Brotherhood, posting a cartoon saying "The Muslim Brotherhood rejects the constitution because it represents the entire Egyptian public".
BBC Monitoring reports and analyses news from TV, radio, web and print media around the world. For more reports from BBC Monitoring, click here. You can follow BBC Monitoring on Twitter and Facebook.