Ariel Sharon death stirs conflicting emotions across political divide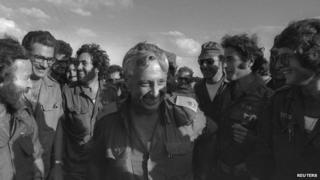 In death as in life, Ariel Sharon remains a highly divisive figure.
On Sunday, a steady stream of ordinary people queued up outside the parliament, or Knesset, to snap photographs and pay their final respects after Mr Sharon's coffin was set on a dark marble plinth for the lying-in-state.
"I feel broken-hearted. He was one of a kind, a real leader," said one Israeli woman, visibly upset.
"People have different opinions but I think he was a great man," commented Steve Coven, an American whose son lives in Israel.
"He's had a huge, incalculable effect on Israeli history. He's one of the great, original figures who fought for Israel and helped mould the modern state."
'Colossal mistake'
Many former army colleagues of Ariel Sharon - veterans of the 1967 and 1973 wars - were among the Knesset visitors.
"I was a reserve soldier in 1973. When I was down in the south and he took command, we felt this was someone we could trust and who would do the right thing," said Tamir Ezra, from Bat Yam.
"Although he was controversial and didn't always obey orders, his decisions turned out for the best."
Many Israelis - including Jewish settlers - chose to accentuate the positive. During the 1990s, when he served as housing minister, Mr Sharon oversaw a massive building drive of settlements in the occupied territories.
However, in 2005 he lost support on Israel's right when he ordered a withdrawal from the Gaza Strip, arguing it was necessary for security and the country's international standing.
"I prefer to remember the Ariel Sharon that established thousands of communities all around Israel, changing forever the landscape of the country," said settler leader Danny Dayan.
"I prefer not to remember the Ariel Sharon of the last years who made a colossal mistake in the disengagement from Gaza."
Israeli historian Tom Segev said that Mr Sharon would be remembered as a founding father of the nation but that many of his actions, as a soldier and statesman, remained highly controversial.
"Sharon was a political soldier and a military politician and I think it's this combination of militarism and nationalism which forms his legacy, a legacy which many people here - me included - find more harmful than useful," he told the BBC.
On the Palestinian side, Ariel Sharon has been described as warmongering and aggressive.
In a New Yorker blog post, the writer, Raja Shehadeh referred to his involvement in the 1982 massacres of Palestinians in Beirut refugee camps and his controversial visit in 2000 to Jerusalem's al-Aqsa Mosque Compound, known to Jews as Temple Mount. The walkabout on the contested site infuriated Palestinians, who launched the second intifada (or uprising).
Mr Shehadeh believes that the unilateral pullout from Gaza was part of Mr Sharon's attempt to strengthen Israel's hold on as much territory as possible rather than a reach for peace.
"He went further than most in his crimes against Palestinian civilians, and further than others in his deception; he showed Israeli leaders that they could retain the tactics of war while calling them efforts for peace, and this is his most corrosive legacy," wrote Mr Shehadeh.
Others have not disguised their visceral hatred.
In the Khan Younis refugee camp in southern Gaza, news of Mr Sharon's death triggered a party where pictures of him were burned.
"Every Palestinian, all refugees and families of martyrs and prisoners should celebrate the death of this criminal as many were killed by his hands," said resident Musab Boraim.
"We will never forget those who occupied our land and committed the most heinous massacres against our people."
Almost a decade after Mr Sharon's participation in public life ended, his actions still have a profound effect on the everyday lives of Palestinians and Israelis.
With the revived peace talks again on rocky ground, his death has prompted a round of reflections on whether matters might have been different if he had been able to continue.