Syria crisis: US and Russia discuss possible ceasefires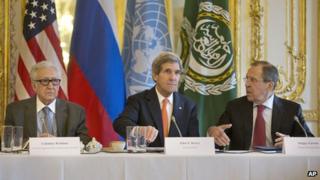 The US and Russia have discussed the possibility of "localised ceasefires" in Syria ahead of peace talks to be held in Switzerland next week.
Russia also said Syria was considering opening humanitarian access to besieged rebel areas.
A prisoner exchange is also under consideration, US Secretary of State John Kerry and Russian Foreign Minister Sergei Lavrov said.
The two men are in Paris to discuss arrangements for the Geneva talks.
"We talked today about the possibility of trying to encourage a ceasefire, maybe a localised ceasefire in Aleppo," Mr Kerry told a news conference after talks with Mr Lavrov and Lakhdar Brahimi, the UN and Arab League envoy for Syria.
Both Mr Kerry and Lavrov said they hoped ceasefires could be in place before the talks, along with plans for prisoner exchanges and the opening of humanitarian corridors.
Mr Kerry said it was up to the Syrian government to show they were serious.
"I'm pleased to say that Foreign Minister Lavrov indicated that he's had some conversations with the [Syrian] regime, that the regime may be prepared to open up a number of areas, specifically al-Gouta which we have been pushing for for some period of time, and it may be possible for convoys now to be able to access," he said.
"The proof will be in the actions that may or may not be taken in the days ahead," Mr Kerry added.
Mr Lavrov, whose government backs Syrian President Bashar al-Assad, also specifically cited the Damascus suburb of East Ghouta, where 160,000 people have been largely trapped by fighting, according to the United Nations.
"We await similar steps by the opposition," Mr Lavrov said.
Mr Brahimi said Syria "recognised that the seriousness of the crisis they have been going through in these three years is such that they need a lot of help from outside, from countries like the United States and Russia, the P5 and their neighbours".
"I think it's high time that their neighbours show what is necessary - the will, the imagination, the creativity - to help Syria solve its problems because if Syria continues any longer in this crisis that crisis is going to affect them [the neighbouring countries]," he added.
On the subject of Iran's participation in the peace talks, Mr Lavrov and Mr Brahimi also said Iran should take part.
But Mr Kerry said Tehran, to be able to take part, needed to agree to the Geneva I communique, which calls for a political transition in Syria.
Iranian Foreign Minister Mohammad Javad Zarif will travel to Moscow on Thursday for a meeting with Russian President Vladimir Putin, Iran's ambassador to Moscow, Mehdi Sanaei, has told the official Iranian news agency Irna.
The Syrian uprising began in March 2011 and the UN says more than 100,000 people have died in the conflict.
Millions more have been forced to flee their homes.