Israeli, Arab papers miles apart on Sharon's legacy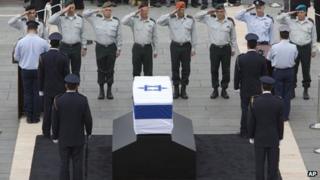 Israeli newspapers take a measured view of former Prime Minister Ariel Sharon. Arab commentators, however, have nothing good to say about him.
Editorial in Israeli left-of-centre, independent broadsheet Ha'aretz
Throughout his military career Ariel Sharon personified, more than anyone else, Israeli aggressiveness and bullying... But the moment he fulfilled his dream and was elected prime minister, his approach changed. With supreme responsibility thrust on his shoulders, he remained within the bounds of power... Since Sharon's departure, Israel lacks leadership that acknowledges the limits of force, maintains the alliance with America, shows political daring in the territories and won't be deterred by the settlers.
Sima Kadmon in Israeli centrist, mass circulation Yediot Aharonot
It is possible to say about Sharon many things, not all of them are good... So how will he be remembered?... as the prime minister who took Israel out of Gaza, but failed to take Gaza out of us; as the man of war almost all his life or as the man who late in life strove for peace or at least to non-combat. Perhaps this is the secret of his charm: he was a multi-faceted, complex man that people loved and loathed with the same intensity.
Dan Margalit in right-of-centre Yisrael Hayom
Sharon died as he lived - never as usual... His 85 years are enough to fill two kinds of biographies full of his deeds and blunders... One is full of patriotism, wisdom, determination, humour, sensitivity; the other is inlayed with selfishness, trampling down of the other, mocking the opponent, lust for capital, suspicions of criminal wrongdoing, not telling the truth and even cruelty... These and these lived together in one soul.
Khaldun al-Barghuthi in Palestinian Authority-owned newspaper Al-Hayat al-Jadidah
When Sharon's health condition deteriorated and then improved, some Israeli dailies reported that he was "fighting like a lion". This reflected the Israelis' missing of his bloody legacy and not a tendency toward a peaceful future. Now, his page has been folded but his bloody legacy remains.
Antar Farahat in Egypt's privately-owned daily Al-Misri al-Yawm
His crimes and the massacres he committed against Palestinians and Arabs are witness to unprecedented racism and bloodiness... He has well-deserved the names of 'Dracula', 'the Bulldozer', 'the hungry wolf' and 'war criminal' and despite this his people regard him as a national hero in light of the achievements he made for them at the expense of Arab and Palestinian blood by taking part in all the wars Israel waged.
Editorial in Oman's independent, pro-government daily Al-Watan
Yes, and with no sad feelings, Ariel Sharon has departed... His history of crimes will remain embedded in the hearts of everyone who was burnt by the fire of his crimes and terrorism... It was a very dark and harsh history that cannot be erased.
BBC Monitoring reports and analyses news from TV, radio, web and print media around the world. For more reports from BBC Monitoring, click here. You can follow BBC Monitoring on Twitter and Facebook.