Israel announces plans for 1,400 new settlement homes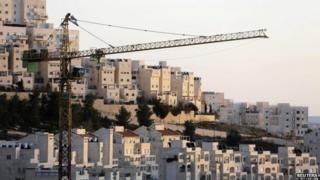 Israel has announced plans to build 1,400 new homes in Jewish settlements in the West Bank and East Jerusalem.
The move was expected after the release of 26 Palestinian prisoners last month, but was delayed until after a visit by US Secretary of State John Kerry.
Palestinian negotiator Saeb Erekat said it showed "Israel's clear commitment to the destruction of peace efforts".
There has been little sign of progress from the direct negotiations mediated by Mr Kerry, which resumed in July.
A dispute over settlement construction led to the collapse of the last talks.
About 500,000 Jews live in more than 100 settlements built since Israel's 1967 occupation of the West Bank and East Jerusalem. The settlements are considered illegal under international law, though Israel disputes this.
Israel's Finance Minister Yair Lapid criticised his own government's announcement, saying it "complicated" the peace process and was a "mistake".
"In every aspect, it seems the world is losing its patience for us," Mr Lapid told the Israeli Ynet news website.
'Displaying true agenda'
On Friday, Israel's housing ministry issued tenders for the construction of 801 housing units in West Bank settlements, including Efrat, Elkana and Emanuel, and 600 in Ramat Shlomo in East Jerusalem.
The ministry also re-issued tenders for a further 532 homes in East Jerusalem that had previously failed to attract bids from contractors.
The settlement watchdog, Peace Now, said that since the direct peace talks resumed, Israel had announced plans for 5,439 settlement homes.
"These latest tenders could cause negotiations to break down and destroy Kerry's efforts," said Peace Now's general secretary, Yariv Oppenheimer.
Mr Erekat, a member of the Palestine Liberation Organisation (PLO) executive committee and its chief negotiator at the peace talks, said the Israeli government was "openly displaying its true agenda".
"The announcement of yet more settlement units at this particular moment is a test for the US administration's ability to hold Israel accountable for actively sabotaging their efforts for peace," he added.
At the beginning of the month, the US secretary of state held talks with Israeli and Palestinian representatives in an effort to secure a "framework" for a final Israeli-Palestinian peace agreement.
He hoped to achieve consensus on core issues - including security, borders, Jerusalem and Palestinian refugees - so progress could be made towards signing a comprehensive treaty by April, US officials said.
In a separate development on Friday, the Israeli foreign ministry summoned the ambassador of the Netherlands "for clarification" over the decision by the Dutch pension fund asset manager, PGGM, to divest from five Israeli banks involved in financing West Bank settlements.
Raffi Schutz, the ministry's deputy director general for European affairs, told Caspar Veldkamp that the move was "unacceptable and relies on false pretence".
He said Israel expected the government of the Netherlands "to take an unequivocal stance against such steps, which only wreak damage" to bilateral relations.
Last month, the Dutch water supplier, Vitens, ended a partnership with the Israeli water company, Mekorot, which supplies settlements.