South Korea halts Bahrain tear gas exports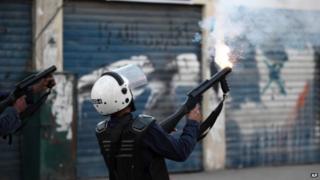 South Korea has ordered the suspension of tear gas exports to Bahrain amid pressure from activists.
Officials at the state-run Defence Acquisition Programme Administration (DAPA) said two firms had been told not to ship any to the Gulf kingdom.
The decision was made because of the situation in Bahrain, including reports that the misuse of tear gas had caused protesters' deaths, they said.
Bahrain's interior ministry said it had not been informed of any ban by Seoul.
"Tear gas is used by Bahrain's police force only as a necessary and proportionate measure and in public order and riot-control situations," a statement said.
"It is used entirely in compliance with international law."
'Commended'
But since launching a crackdown on pro-democracy protests in 2011, the Bahraini authorities have been accused by human rights and opposition activists of using tear gas as a weapon, resulting in the maiming, blinding and even killing of civilians.
In October, US-based Physicians for Human Rights said 39 deaths had been attributed to the unprecedented use of tear gas, although the Bahraini government disputed the figure.
That month, the local activist group Bahrain Watch published what it said was a Bahraini interior ministry tender for bids for up to 1.6 million tear-gas canisters, 90,000 tear-gas grenades and 145,000 stun grenades.
The South Korean company DaekWang Chemical, which has previously supplied a million tear gas shells to Bahrain in 2011 and 2012, was among the companies designated to fill the order.
Human rights groups subsequently launched a campaign to pressure foreign governments, including South Korea's, to halt shipment of tear gas to the Gulf state while there was a risk that it might be misused against peaceful protesters.
On Wednesday, DAPA spokesman Lee Jung-geun told the New York Times that after two companies inquired about the "possibility" of exporting to Bahrain, they were told to "hold it".
"We made that decision, considering the situation of Bahrain reported in the media, political instability there, people reportedly killed and injured there because of tear gas, and the complaints from human rights groups," he said.
Amnesty International welcomed the move, saying the South Korean authorities should be "commended for this move to help prevent further human rights violations".