New front in Syria's multiplying war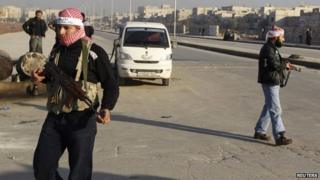 Hassan Sheikh Omar stands in an olive grove in southern Turkey overlooking Syria, squints into the sun, and closes his eyes as he speaks.
"We were surprised," says Mr Omar, a hospital director. "Several days ago ISIS and the rebels started fighting."
Mr Omar runs a hospital across the border in the northern Syrian town of Darkush.
On Monday, fighters from the Islamic State in Iraq and the Levant (ISIS,) an Al-Qaeda linked group, detonated a car bomb at a rival rebel checkpoint in the town.
"We treated about 70 injured people after the car bombing," Mr Omar says. "Our staff struggled to cope. We don't have enough medical supplies."
Right now, the people on the other side of the border face two wars. The first is between the government and rebels. The second is between rebel groups themselves.
"We hope all battalions will go to fight the real enemy, the Assad regime," Mr Omar adds.
"He's the one who killed our people and destroyed our country."
Fighting between rebel groups has affected life here in Turkey. For several days, the government closed a major border crossing because of the fighting on the other side.
A line of Turkish trucks waiting to drop off goods at the crossing now stretches for several miles. Syrian rebel fighters use this region to recover from their battles on the other side of the border.
"ISIS tried to kill me," says Abu Azzam, a commander with the Free Syrian Army. "They tried to kill me with a car bomb."
From a hotel room in the Turkish border city of Hatay, Abu Azzam plays a video showing him inside Syria. He makes a statement in front of several dozen fellow rebels.
Two of the men filmed standing behind him are now dead. For almost three years Abu Azzam's fighters have had one principal enemy: the Syrian government. But now they face ISIS.
"They [ISIS] have many good people," he admits, "but their commanders make mistakes."
"Is it more difficult to fight Assad or more difficult to fight ISIS?," I ask him.
"For us - ISIS," he answers immediately. "It's not a military thing. When we fight the regime, we are prepared to die - we are happy.
"But when we fight ISIS we're fighting our fellow believers. But we have to protect ourselves."
In an audio statement released this week, ISIS promised not to surrender. It has warned other rebels to get rid of their checkpoints or face further attacks.
Syria's wars are multiplying.