Syria conflict: Rebel-on-rebel clashes spread in north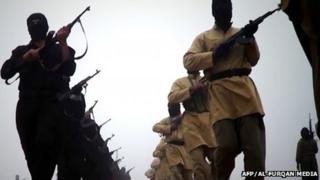 Fighting in northern Syria between rival rebel groups has spread to the city of Raqqa, reports say.
The powerful al-Qaeda-affiliated group Islamic State in Iraq and the Levant (ISIS) came under attack at its headquarters overnight, activists say.
It is the latest battle in a continuing struggle between ISIS and an alliance of other rebel groups.
The two factions clashed too in al-Tabqa, according to the UK-based Syrian Observatory for Human Rights (SOHR).
ISIS has been accused of serious abuses in the areas it controls.
The allegations include torture, public executions, and holding hundreds of prisoners - journalists, activists and Westerners - at its Raqqa headquarters.
A coalition of moderates and other Islamists fighting to depose President Bashar al-Assad is ranged against ISIS in several parts of northern Syria.
Though they differ on many issues, correspondents say those who make up the alliance appear united in their hatred of ISIS, which includes many foreign jihadists.
The coalition includes rebels of the Nusra Front, which also pledges allegiance to al-Qaeda, according to SOHR.
Prisoners released
ISIS and the Nusra Front used to follow the same al-Qaeda leadership before splitting.
However, the Nusra Front had been thought up until now to be trying to stay neutral in the fight against ISIS.
Those attacking Isis in Raqqa on Sunday night and into Monday morning released 50 Syrian prisoners, SOHR said, adding that some 100 people had been killed in rebel-on-rebel fighting since Friday.
Raqqa, seized by ISIS last year, was the first provincial capital to be completely controlled by rebels.
SOHR, which is based in the UK but relies on a network of activists and residents to relay information about Syria, said scores had been killed on both sides of the rebel divide in Raqqa and the central province of Hama.
ISIS is active in the northern city of Aleppo, but threatened two days ago to quit the battle against government forces there unless its rivals stopped attacking it.
In neighbouring Iraq, ISIS has taken over much of the city of Fallujah, and the Iraqi government has urged residents to expel them or face the prospect of military action.