Iraq conflict: Sunni fighters 'control all of Falluja'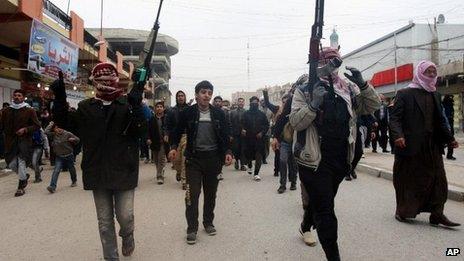 The Iraq government has lost control of the strategic city of Falluja, west of Baghdad, say officials and witnesses.
Al-Qaeda-linked militants now control the south of the city, a security source told the BBC. An Iraqi reporter there says tribesmen allied with al-Qaeda hold the rest of Falluja.
Fighting there erupted after troops broke up a protest camp by Sunni Arabs in the city of Ramadi on Monday.
They have been accusing the Shia-led government of marginalising the Sunnis.
The recent fighting in Falluja and Ramadi has pitted government troops against the Islamic State of Iraq and the Levant (Isis), which is affiliated with al-Qaeda, and Sunni tribesmen.
Local Sunni Arabs have been angered by what they perceive as discrimination by the government of Prime Minister Nouri Maliki.
They also say their minority community is being targeted by anti-terrorism measures implemented to stem the surge in sectarian violence.
Late on Saturday, eyewitnesses said al-Qaeda militants were in evidence on the streets of Falluja, riding pick-up trucks mounted with anti-aircraft guns.
Reuters news agency said troops were shelling parts of the city in an effort to retake it.
Hadi Razeij, head of the Anbar province police force, was quoted as saying police had left the city centre entirely and were on the city outskirts.
"The walls of the city are in the hands of the police force, but the people of Falluja are the prisoners of Isis," he told the al-Arabiya satellite channel.
Iraqiya state television quoted Mr Maliki as saying: "We will not back down until we end all terrorist groups and save our people in Anbar."
On Tuesday, he agreed to withdraw the army from towns and cities in Anbar province, to allow police to resume control of security.
But as soon as soldiers left their posts, militants aligned to al-Qaeda appeared in Ramadi, Falluja and Tarmiya, storming police stations, freeing prisoners and seizing weapons.
The prime minister reversed his decision the next day, sending soldiers back to Anbar.
But on Thursday, militants in Ramadi and Falluja raised black flags on buildings and used the loudspeakers of mosques to call on people to join their struggle and support a "peaceful takeover".
In recent months Sunni militants have stepped up attacks across Iraq, while Shia groups began deadly reprisals - raising fears of a return to full-scale sectarian conflict.
On Wednesday, the United Nations said at least 7,818 civilians and 1,050 members of the security forces had been killed in 2013.
The annual death toll was the highest in years, but still significantly below those recorded at the height of the insurgency in 2006 and 2007.