Ancient Egyptian brewer's tomb found in Luxor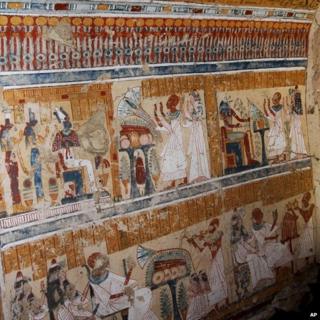 Archaeologists have discovered the tomb of a brewer who served an ancient Egyptian court more than 3,000 years ago in Luxor.
The man buried in it was "head of beer production", archaeologists say.
A Japanese team found the tomb during work on another tomb belonging to a top official under Pharaoh Amenhotep III, who died around 1354 BC.
Luxor is home to a large and famous temple complex built by Amenhotep III and later by Rameses II.
Experts say the tomb's wall paintings are well preserved and depict daily life as well as religious rituals.
Antiquities Minister Mohamed Ibrahim told the Egyptian al-Ahram newspaper that security had been tightened around the tomb until excavation works are complete.
He added that a comprehensive restoration would be carried out after its full excavation with a view to opening the tomb to visitors.