Egypt protests: Two die in violence in Alexandria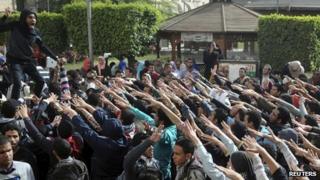 Two people have been killed in clashes involving pro-Islamist protesters and police in the northern Egyptian city of Alexandria, the authorities say.
The violence occurred during marches by the banned Muslim Brotherhood, the Interior Ministry said.
Egypt has seen a series of violent protests since President Mohammed Morsi was deposed by the army in July 2013.
A crackdown on the Brotherhood, to which Mr Morsi belongs, followed his ousting.
Trading blame
The Interior Ministry accused the Muslim Brotherhood protesters of blocking a road, setting shops and a car on fire, and firing guns, Reuters reported.
It said some residents had exchanged fire with the Brotherhood protesters, killing two people and injuring three police officers.
However a statement by a pro-Morsi alliance blamed government forces for the deaths.
Police also fired tear gas at pro-Morsi student demonstrators on Wednesday in the Nile Delta city of Zagazig, Mr Morsi's home town.
Earlier police fired tear gas and water cannon at hundreds of Brotherhood supporters demonstrating near the Defence Ministry in Cairo.
The Brotherhood, which had been banned since September from all activity, was declared a terrorist group last week after a suicide bombing of a police headquarters in the Nile Delta.
Thousands of Brotherhood members, including its leadership, have been arrested and many put on trial.
The movement has been banned and was declared a terrorist organisation in December.
Mr Morsi's government - the first to be democratically elected in Egypt - was toppled on 3 July following widespread anti-Brotherhood demonstrations.
The ousted president was arrested and faces several criminal charges relating to his time in office.