Bahrain opposition leader Sheikh Ali Salman charged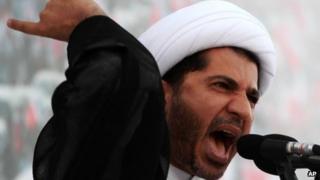 The leader of Bahrain's main opposition movement, al-Wefaq, has been released and banned from travel after being arrested for allegedly inciting hatred.
Sheikh Ali Salman had been charged with "incitement to religious hatred and spreading false news likely to harm national security", state media said.
It comes after Mr Salman was detained for a day and questioned over a sermon he delivered on Friday.
Opposition groups denounced the move as an attack on freedom of expression.
Al-Wefaq won 18 seats in the last election in 2010 but its MPs resigned the next year after a deadly crackdown on pro-democracy demonstrations.
The protesters were demanding more rights and an end to discrimination against the majority Shia community by the Sunni royal family.
Forbidden to travel
In a statement, the group said Mr Salman was in detention on Friday after what it called a series of illegal measures by the prosecuting authorities.
He is now forbidden to travel for the duration of the investigation.
Mr Salman was summoned for questioning about a speech he made on Friday at a mosque in the capital, Manama, according to government officials.
"The Al-Wefaq secretary-general has today been charged with inciting openly on the denigration of another social sect and spreading lies which may jeopardise national security and subvert public order," the state-run Bahrain News Agency reported.
Bahrain's attorney general, Abdulrahman Al-Sayyed, was quoted as saying Mr Salman's sermon had fuelled "acts of rioting, violence and sabotage".
He was also alleged to have "accused institutions of the state of engaging in illegal practices".
A government spokeswoman told the BBC that "a series of violence-related activities" took place in Bahrain on the same day as the sermon, including a bomb attack which injured a number of police officers.
However, there has been no independent confirmation that the events were linked.
Mr Salman is also facing earlier charges of insulting the interior ministry through an exhibition about alleged human rights abuses by police.
He has described the charges as politically motivated.