Syria conflict: Strike on Aleppo market 'kills 21'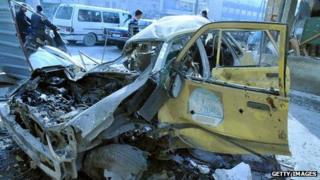 A Syrian government airstrike on a crowded market in the northern city of Aleppo has killed at least 21 people, activists say.
Videos uploaded by activists showed extensive damage to the market and corpses being pulled from cars.
Many more were reported wounded in the strike.
Government forces are reported to have killed about 400 people since beginning an aerial offensive in and around Aleppo two weeks ago.
Syrian authorities say they are targeting "terrorists", a term the government uses to describe all opposition.
The main opposition alliance, the National Coalition, said earlier this week it would not attend a peace conference planned to take place next month in Geneva if the air campaign continued.
Human rights groups have condemned the Syrian air force's use of so-called barrel bombs - oil drums or cylinders packed with explosives and shrapnel - saying the targeting is indiscriminate and that the attacks are therefore unlawful.
The bombs have hit residential and shopping areas, often killing dozens of civilians, either missing possible military targets or with little indication of any intended military objective, they say.
City divided
The Syrian conflict began as a peaceful uprising against the authoritarian rule of President Bashar al-Assad in March 2011, but then became a civil war after a violent government crackdown.
The UN says more than 100,000 people have been killed in the conflict so far.
Aleppo became a major front in the war in mid-2012. The city, Syria's largest and its commercial capital, is now divided between government and rebel-held areas, with large parts of it heavily damaged by the conflict.
Also on Saturday, a Norwegian frigate expected to accompany cargo vessels collecting chemical weapons from Syria left the Cypriot port of Limassol.
The weapons are due to be taken to the Syrian port of Latakia before being shipped abroad.
They will be taken to Italy and then loaded on to a US Navy ship and taken out into international waters, where they will be destroyed in a specially created titanium tank on board.
Syria agreed to abandon its chemical arsenal to avert potential US military action after a sarin nerve gas attack in August.
The frigate will sail along the Cypriot coast to carry out military drills while it awaits the order to sail to Syria.
The Organisation for the Prohibition of Chemical Weapons (OPCW), the international body overseeing the destruction of the weapons, said today that it does not expect to meet the 31 December deadline for shipping out the "most critical" chemicals.