Egypt violence: One killed in Muslim Brotherhood clash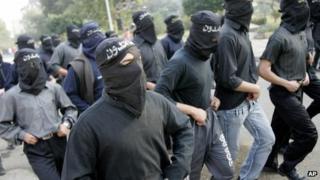 One person has been killed in clashes between student supporters of Egypt's Muslim Brotherhood and residents in the capital Cairo, officials say.
They say one of the students died after the two sides exchanged gunfire in the Nasr City district.
It comes a day after the government declared the Islamist Muslim Brotherhood a terrorist organisation.
In a separate incident, five people were injured by a bomb close to a bus in Nasr City.
The bomb was planted on a pedestrian island and exploded as the bus passed by.
No group has so far claimed responsibility for the bomb blast.
A security source told the BBC that explosive experts had detonated a second bomb that was planted in an advertising board close to where the first explosion went off.
Earlier on Thursday, at least 16 members of the Brotherhood were detained on charges of belonging to a terrorist group.
Those arrested include the son of a deputy leader of the movement.
The state news agency, Mena, said they were arrested on suspicion of promoting the ideology of the Brotherhood and inciting violence against the army and police.
Army chief and Defence Minister Gen Abdul Fattah al-Sisi said Egypt would remain resilient against terrorism.
"Don't let these cruel terrorist incidents affect you or your morale," he said at a military ceremony in Cairo.
Wave of attacks
The Brotherhood, whose candidate Mohammed Morsi won the presidential election in 2012 before being deposed by the military earlier this year, had already been outlawed.
In recent months, Egypt has seen a wave of attacks which the authorities have blamed on Islamist militants.
On Tuesday, 16 people were killed and more than 100 others injured in a car bomb attack on a security building in the northern city of Mansoura, officials say.
The government said the Muslim Brotherhood was behind the attack - a charge the movement denied.
An al-Qaeda-inspired militant group Ansar Beit al-Maqdis (Champions of Jerusalem) claimed responsibility.