Syria conflict: Deadly air strikes continue in Aleppo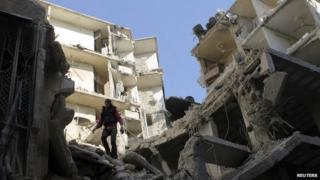 At least 15 people have died in air strikes in the Syrian city of Aleppo, activists say, as the air force's assault on rebel-held areas continues.
The Syrian Observatory for Human Rights said three children were among the dead in the southern district of Sukkari.
More than 360 people are believed to have been killed in the past nine days.
The main opposition alliance, the National Coalition, said it could not attend next month's peace conference in Geneva if the air campaign continued.
Monzer Azbik, chief of staff to the coalition's leader Ahmed Jarba, called on foreign powers to halt the bombardment.
"The lack of international consensus in stopping this latest war crime is directly emboldening Assad to significantly escalate violence against the Syrian people," he said.
On Monday, the US and UK condemned the ongoing air assault.
'Nowhere to hide'
Human rights groups have condemned the Syrian air force's use of so-called barrel bombs - oil drums or cylinders packed with explosives and shrapnel - saying the targeting is indiscriminate and that the attacks are therefore unlawful.
The bombs have hit residential and shopping areas, often killing dozens of civilians, either missing possible military targets or with little indication of any intended military objective, they say.
One activist in Aleppo described the past nine days as "the most violent in the whole of the Syrian revolution", which the UN says has left more than 100,000 dead.
"When the planes come, people freeze, they stand, look up at the sky, and wait for the bombing, feeling helpless," Mohammad Wissam told the AFP news agency.
"Then when the bombing starts, so does the panic. People run aimlessly in all directions, looking for anywhere to hide, but there is nowhere to hide. So many people are getting trapped under the rubble of collapsing buildings."
"When the helicopters start launching the TNT-packed barrels, it's like madness grips everyone. The bombing is random."
The Syrian government has said its forces are battling to "save" the city.
"We do not target any area unless we are 100% sure that the ones there are terrorists," a security source in Damascus told AFP. "The bodies you see on television are the bodies of terrorists and mercenaries, most of whom travelled into Syria from abroad."