Israel police search for bus bombing suspects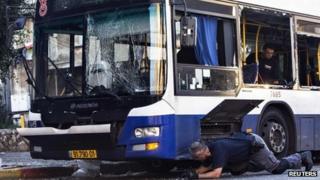 Israeli police are searching for suspects after a bomb exploded on board a bus in central Israel on Sunday, just minutes after it had been evacuated.
A bomb squad officer was slightly hurt by the blast in Bat Yam, which blew out the windows of the vehicle.
The bus driver had ordered passengers off after one saw wires inside a large bag that had been left on a seat.
Police spokesman Micky Rosenfeld said a preliminary investigation suggested it had been a "terrorist attack".
The nature of the target and the type of explosive device led the authorities to determine that militants, not criminals, were behind the bombing, he added.
No group has yet said it was involved.
However, a spokesman for the Palestinian Islamist movement Hamas, which governs the Gaza Strip, praised the bombing.
"This is a brave, heroic work in response to the crimes of the occupation," Fawzi Barhoum said, referring to Israel. "Resistance continues."
Early on Monday, a rocket fired from Gaza landed in a community near the southern Israeli city of Ashkelon, without causing damage or injuries.
On Friday, Israeli troops killed a Palestinian and wounded three others in three separate incidents of violence along the Israel-Gaza border.