Lives of fear for Egypt's Christians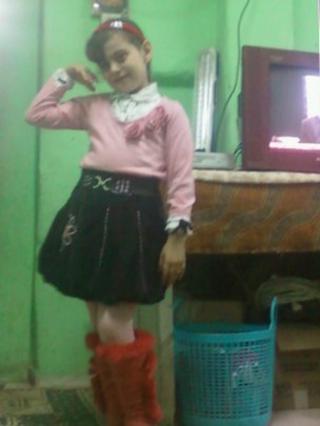 As Coptic Christians in Egypt prepare to celebrate their Christmas on 7 January, they are still waiting for scores of churches destroyed in August to be rebuilt. Christians - who account for an estimated 10% of Egypt's population of 92 million - have long been easy targets. And for some families this Christmas is a time to mourn, reports the BBC's Orla Guerin in Cairo.
Mariam Ashraf was so excited about going to the wedding that she did not wait for help from her mother.
The seven year old dressed herself. She chose fluffy red boots, a black skirt with white embroidery, and a pink top.
Then, for the first time ever, she asked her uncle to take her picture with his mobile phone, showing her outfit from top to toe.
It was the last photo ever taken of the polite little girl described by her parents as "an angel walking on earth".
'Fell at my feet'
Mariam was one of four people killed by gunmen who sprayed Coptic Christians with bullets outside a Cairo church in October.
Her Mother, Nirmeen Magdy, was shot four times.
Two months on, her wounds are healing, but not her grief. Mariam was killed right in front of her.
"She was walking towards me, and it seemed like she got dizzy, because she fell at my feet," Ms Magdy says.
"When the shooting started I didn't think it was live ammunition. I thought it was fireworks for the wedding.
"I fell on my children and kept telling them: 'Don't worry, don't be afraid.' Mariam wasn't moving. I had no idea she was dead."
Mariam's three-year-old brother, Filopateer, was hit twice in the stomach. He remained in hospital until the end of November.
Now little Fou Fou, as he is known, faces more operations, and a future without her beloved sister.
Every day he kisses her picture, and says she has gone to Jesus, according to his doting father, Ashraf Masiha.
"Every year there is a new incident," Mr Masiha says, as Fou Fou plays at his feet.
"Nobody comes out to tell you honestly: 'We have arrested the culprit and they are being subjected to the law.' There is nothing like that. If the culprits are arrested and held responsible, there will be no new incidents."
Asked if he expects the guilty to be held to account in his daughter's case, he said Christ would avenge her killing.
Revenge attacks
Four hours' drive south, in Minya province - which has a sizeable Christian population - there is plenty more evidence of religious hatred.
It has been scorched into the crumbling facade of the Amir Tadros Coptic Church, which has stood for almost 100 years.
The church was set alight by a mob in August, during an unprecedented wave of sectarian violence.
It began with the ousting of the Islamist President Mohammed Morsi in July.
Church leaders supported his removal - as did the leading Sunni Muslim religious authority, al-Azhar - and Christians were targeted for revenge.
The attacks intensified after 14 August, when security forces violently dispersed two pro-Morsi sit-ins in Cairo, killing hundreds of his supporters.
Church officials say 102 religious buildings were damaged or destroyed in the week that followed.
Burnt churches
I was given a tour of the ruins by Father Bemen Louis, who has led the congregation there for 12 years.
As he walked me through the blackened shell, now carpeted in ash and rubble, he blamed the destruction on the Muslim Brotherhood, and other Islamists.
The army has promised to help rebuild the church, but he says no-one was there in its hour of need - not even the police from next door.
"The church is no more than 12 footsteps away from the Minya police headquarters," he said.
"When people asked the police who were protecting their own headquarters to come and help us they refused. They said they did not have orders to interfere in this problem."
Christians in Minya are facing are facing other forms of torment.
They are regular targets for kidnappers because of the perception that they are well off.
Locals said about 100 people had been kidnapped in the province since the 2011 revolution that forced Hosni Mubarak from power. Most were Christians.
'Death pit'
Hany Sedhom, a pharmacist, was abducted by a seven-man gang in late September. For two days, he was brutally beaten and mistreated.
"I call them the 48 hours of death," Mr Sedhom says. "No eating, no drinking, no sleeping and no light. It was 48 hours of continuous beating, and continuous humiliation."
The price for his life was set at $43,000 (£26,300) - a huge sum for his family to raise.
When there was a delay in producing the ransom, the kidnappers thought they had been tricked, and one of them pushed him into a pit.
"He told me: 'This is the death pit, where you will now be buried,'" Mr Sedhom says.
"As soon I was pushed in I could smell the dead bodies that were inside. The stench was unbearable. The guy put his gun in my mouth. I felt that these were my final moments."
After the money changed hands he was returned to his family - scarred, bleeding and bruised.
But he believes that Egypt's Christian minority will see better days. For him it is a matter of faith.
"I think God will cause change in the country," he adds.
'Stronger than before'
Back at the Amir Tadros Church, Mass was taking place in the courtyard, in among the trees.
The congregation prayed under a patchwork of blue tarpaulin, slung across some scaffolding.
"They thought that by burning down the church, they would drive away the people," said Father Timothy Badie, who has been there for 40 years, as man and boy. "But the congregation was back in three days, and it's stronger than before."
Christians here say the extremists are a minority, and they are relying on God to protect them.
But this community is accustomed to being vulnerable.
"Where there are Christians, there is persecution," said Fr Louis.