Syria war: Many dead as Assad helicopters pound Aleppo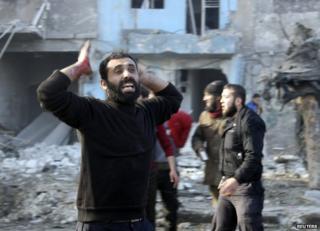 Syrian government helicopters have bombed a district of Aleppo, killing at least 25 people, as fighting for the country's second city rages.
Barrels packed with TNT were dropped on the Hanano district, killing six children and 19 adults and injuring 17 people, opposition activists said.
A correspondent for Qatar-based al-Jazeera TV estimated 70 deaths.
In Homs province, a car bomb exploded outside a primary school, killing six schoolchildren and two adults.
Rebels recently gained territory in Aleppo, capturing a strategically placed ruined hospital from government forces.
Government air strikes have continued for more than a week and as many as 200 people may have been killed in the bombardment.
Barrel bombs are large, home-made incendiary devices which are rolled out of helicopters and are indiscriminate in their impact.
Scene of carnage
Rami Abdel Rahman, director of the UK-based Syrian Observatory for Human Rights, quoted activists and witnesses in the city as saying the death toll in Hanano could rise.
According to the Aleppo Media Centre, a network of citizen journalists on the ground, the bombs killed 32 people, destroying a bus with everyone inside and demolishing about 10 cars and a residential building.
Unverified amateur video posted online shows rescuers at work in a smoke-shrouded street of charred and shattered vehicles, one of them burning fiercely, with bodies lying on the ground.
Bearded militants and bystanders mill around, dragging bodies from a car, chanting "God is great" and punching the air.
A man, woman and child from the same family were reportedly killed in the town of Marea, near Aleppo, when it was also bombed from the air on Sunday.
On Friday, rebels seized the al-Kindi Hospital after blasting its central section with a huge lorry bomb.
According to an unconfirmed report, 35 rebels died in the attack on the hospital, which stands close to a besieged government prison.
School attack
The car bomb exploded in Umm al-Amed, a predominately Shia Muslim town in the Sunni-majority country, where the rebels and their foreign militant allies are predominately Sunnis.
At least 12 people were also injured, children among them, government media and opposition activists said.
Photos from the scene showed an expanse of rubble and shattered buildings.
More than 100,000 people are estimated to have been killed since an uprising against President Bashar al-Assad began in 2011.
Out of a population of 21 million, some 6.5 million Syrians are living as internally displaced people while almost 2.3 million are living as refugees abroad.