Floods, blockade and political rifts deepen Gaza misery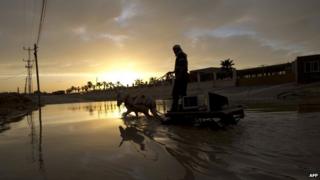 The streets looked like rivers in Jabaliya refugee camp in the Gaza Strip last week after a powerful winter storm that swept across the eastern Mediterranean brought torrential rain.
Locals say the floodwaters rose up to 2m (6.5 ft) in places. They are still clearing up the damage to their homes and businesses.
The weather was some of the most severe seen in the Palestinian territory in decades and it inflicted extra misery on a population already under strain.
More than 30 families continue to take shelter in the Jabaliya elementary boys' school. They were among thousands evacuated from their homes.
"They had to rescue us with a bulldozer," says Amna Abu al-Ish. "We woke our kids in the middle of the night. Their beds were flooded, the water reached up to my waist.
"It's ruined everything - even the teacups."
Her neighbour takes me to look at how rainwater mixed with sewage from a nearby plant came into his small, cramped house.
"Every year we have floods but usually it reaches 10 to 20cm and we clear it away.
"This year it measured at least one-and-a-half metres (4.9 ft), not just in my house but in everybody's house," says Ibrahim Nasrallah.
"We are too scared to go home."
Power shortages
The recent emergency effort was hampered by delays in getting heavy equipment working to remove the water.
Israel, which tightly controls what is allowed across its border into Gaza, transferred four water pumps and let in emergency aid at the request of the United Nations.
For weeks, Gaza has suffered from serious fuel and power shortages.
Even before the storm there were frequent leaks of sewage across the small coastal enclave because there was not enough energy to pump it out to sea.
The power cuts got dramatically worse after Egypt destroyed the network of smuggling tunnels under its border with Gaza. They were bringing in supplies of affordable, subsidised fuel.
UN officials and aid agencies argue that the problems of the last week have compounded a humanitarian crisis in Gaza brought about by years of tight border restrictions imposed by Israel and Egypt.
Israeli restrictions on Gaza were increased after the Islamist movement Hamas, which had carried out scores of deadly attacks against the Jewish state, took over in 2007. Although they were later eased, exports are still very limited, weakening the economy.
Israel sees Hamas - which does not recognise its right to exist - as a terrorist group. Egypt also sees the group as a security threat.
"The floods come on top of an already crippling blockade of the Gaza Strip that has forced the 1.7m Palestinians into poverty," says Karl Schembri of Oxfam.
"With the Palestinians' purchasing power having gone down under years of the blockade, the available fuel in the strip is too expensive for families, businesses and local authorities in normal times, let alone in times of crises when demand is even sharper."
Political split
At the Kerem Shalom crossing, the official entry point for commercial goods into Gaza, there are complicated security procedures.
Lorries line up on the Israeli side from early in the morning. Their supplies are offloaded and checked with a huge scanner.
They are then transferred to a zone managed by Palestinian Authority (PA) workers because Hamas and Israel do not deal with each other directly.
However the PA - which controls parts of the occupied West Bank - has its own deep political differences with the Hamas authorities. Recently these have been exacerbated by a dispute over taxes.
Israeli officials say this is partly to blame for the current fuel shortages in Gaza.
"This situation is especially because of Hamas who decided not to buy the fuel from Israel but only to smuggle it from Egypt," says Guy Inbal, spokesman for Israel's Coordinator of Government Activities in the Territories (COGAT).
"There is another alternative that Hamas decided not to do, which is buying the fuel from Israel through the Palestinian Authority. This is because of an internal conflict."
As the effects of the recent flooding became clear, Qatar announced that it would donate $10m to buy fuel.
The first lorry loads were sent through Kerem Shalom on Sunday and enabled the Gaza Strip's sole power plant to begin working for the first time since early November.
"The plant was shut down for more than 40 days and it's still only at half its capacity. We have four turbines and we're currently operating just two. But at least we're running right now," the general manager, Rafiq Muniha tells me.
He stresses the situation is far from resolved.
"This will reduce the crisis but it's not solving the problems. Instead of getting six hours of electricity, consumers might get eight hours' supply. Also we're only talking about supplies for one month."
"Unfortunately this is the situation in Gaza," Dr Muniha adds. "It's deteriorating year by year and there are no strategic solutions."
Back in Jabaliya refugee camp there is growing anger and frustration. Depending on whom you speak to it is vented at Israel, the PA, Hamas, UN agencies and other international players.
There is a sense here that with no sign of a long-term political solution to solve Gaza's underlying problems, it will continue to lurch from crisis to crisis.
"We feel nobody is listening to us," says Ibrahim Nasrallah. "We are not living, we are barely surviving."