Two Palestinians killed in West Bank raids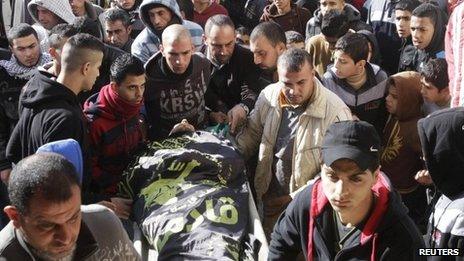 A member of the Palestinian security forces has been killed in a gun fight with Israeli troops in Qalqilya in the West Bank, the Israeli army says.
An Israeli army spokesman said he was a "known gunman" who fired at soldiers when they went to arrest him.
Palestinian officials said intelligence officer Saleh Yassin was on his way home from work when he was shot.
Earlier, a member of Islamic Jihad died after being shot by Israeli troops during clashes in Jenin.
A spokesman for Palestinian Authority President Mahmoud Abbas condemned the killings and warned Israel that it was jeopardising the US-brokered peace talks.
"This dangerous Israeli escalation aims to thwart American and international efforts to move forward with the peace process, and leads the negotiations to a dead end," Nabil Abu Rudeina was quoted by the official Wafa news agency as saying.
In a statement, Israel Defence Forces (IDF) spokesman Lt Col Peter Lerner accused Mr Yassin of having attacked its troops several times.
"In a successful overnight ambush in Qalqilya, pre-planned to apprehend a known gunman, who has opened fire towards IDF soldiers on numerous occasions in recent weeks, that perpetrator opened fire at IDF soldiers. The soldiers retaliated towards the source of fire," he added.
"Later in the night reports of his death were received, the individual was a member of Palestinian security forces. A gun and ammunition were later found at the scene."
But an unnamed local Palestinian official told Reuters news agency that Mr Yassin had been killed in cold blood while returning home from work. Local hospital staff said he had been shot in the back.
In the earlier incident, the IDF said Nafeh al-Saadi was one of several Palestinians shot in an exchange of fire in Jenin, in the northern West Bank. The IDF said the firefight began when Israeli security forces came under attack as they tried to arrest a suspect.
Army medics treated Mr Saadi along with the other wounded Palestinians, but he died of his wounds on the way to the hospital, Col Lerner said.
Afterwards, there were clashes between the Israeli forces and about 100 stone-throwing Palestinians. Several Palestinians were reportedly hurt.