Iran Guards 'killed in Sistan Baluchistan blast'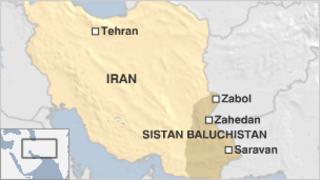 Three members of Iran's Revolutionary Guards have been killed by a bomb blast in the south-eastern province of Sistan Baluchistan, local media report.
The men were part of an engineering division and had been working on construction projects near the city of Saravan, the Tasnim news agency said.
They were travelling to a workshop on Wednesday when a bomb exploded beside their vehicle, according to Fars.
A Sunni militant group, Jaish al-Adl, said it was behind the blast.
A statement posted on its website said the victims included a high-ranking officer and senior engineers, and that its fighters had been waiting a long time to ambush them.
The group said it was "avenging the martyrs" who "the regime recently hanged", an apparent reference to the 16 people executed in the provincial capital Zahedan last month.
The hangings took place shortly after 14 Iranian border guards were killed and three others captured outside the town of Saravan, near the frontier with Pakistan. Jaish al-Adl said it was behind that raid too.
Less than two weeks later, a public prosecutor and his driver were shot dead in Zabol. There was no claim of responsibility for that attack.
Sistan Baluchistan, which borders both Afghanistan and Pakistan, has been the scene of frequent clashes in recent years between security forces and drug smugglers and Sunni militants.