Iraq violence: More than 70 people killed in attacks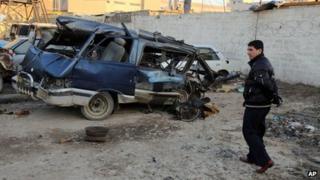 Iraq has suffered one of its bloodiest days in recent months with a wave of attacks killing more than 70 people, many of them pilgrims.
The deadliest single attack came in the evening when two car bombs targeting Shia pilgrims killed at least 20 in Rashid, a southern suburb of Baghdad.
Thousands of Shia are currently making their way to the holy city of Karbala.
Violence in Iraq this year has reached a level not seen since 2008, raising fears of a return to civil war.
A further 21 people died in a series of bomb blasts around the capital earlier in the day.
Scores more were injured in Monday's violence.
Brazen attacks
Earlier in the day, militants tried to storm a police station in the town of Baiji and a council headquarters in the city of Tikrit.
They were reported to have briefly taken hostages in a council building in Tikrit before it was retaken by security forces.
At least nine people were killed in Baiji while another three died in the attack in Tikrit.
A bus carrying Shia pilgrims in the northern city of Mosul was also targeted in a gun attack which killed 12 people.
Correspondents say the attacks show how insurgents are now targeting symbols of government authority on a near daily basis.
The UN has said the monthly death toll dropped to 659 in November, including 565 civilians and 94 members of the Iraqi security forces, compared with 979 in October.
But more than 7,150 civilians and 950 security forces personnel have now been killed since January, the highest annual toll since 2008.