Poster advertising Egypt's draft constitution mocked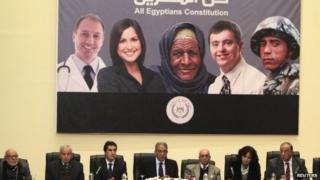 The authorities in Egypt have had an unfortunate start in their attempt to publicise next month's referendum on a new draft constitution.
A poster showcased at a televised news conference on Sunday was supposed to say "a charter for all Egyptians".
However, the word "Egyptians" in Arabic was misspelt, and instead ended up looking like the word "determined".
It also later emerged that several of the people appearing in the poster were not in fact Egyptians.
Twitter users said three of the five photos of individuals supposedly representing different parts of Egyptian society appeared to have been taken from foreign stock picture libraries.
One man appears in an advert for an Arizona-based company selling treatments for stretch marks.
A source told the BBC that the poster had been borrowed from a local aid agency.
The draft constitution, approved by a 50-member constituent assembly earlier this month, is intended to replace the controversial charter passed a year ago under ousted President Mohammed Morsi.
It preserves some of the military's wide-ranging powers and would allow a presidential election to be held before parliamentary polls.
The vote is the first stage in the "democratic transition" promised by the interim government after Mr Morsi was deposed by the military in July.