Syria crisis: French 'pessimism' over Geneva II talks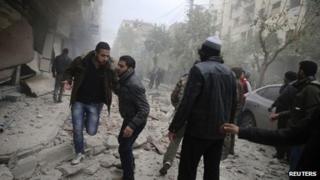 French Foreign Minister Laurent Fabius has said he has little hope for planned peace talks over the Syrian conflict.
Mr Fabius said France was working on making the talks scheduled for next month in Switzerland a success, but that there was "a great deal of doubt".
The moderate anti-government groups which France has been working with were "in serious difficulty", he said.
The US, UN and Russia have been struggling for months to get the talks, known as Geneva II, off the ground.
The talks will aim to ensure the delivery of humanitarian aid, end the fighting and outline a political transition for Syria.
The Syrian government of President Bashar al-Assad has said it will attend in principle, but will accept no preconditions and refuses to negotiate with "terrorists", its term for almost all its political and military opponents.
The opposition has said any political solution to the crisis must include the removal of Mr Assad.
It remains unclear who will take part in the conference in the Swiss town of Montreux on 22 January, with reports emerging last week that representatives of more than 30 countries wanted to attend.
'Assad no idiot'
Speaking at the World Policy Conference business meeting in Monaco, Mr Fabius said he was "sadly quite pessimistic" about the prospects for peace.
My fellow European ministers and I are working on the success of [Geneva II], but we can have a great deal of doubt on that. If sadly it isn't successful, that would mean this martyred country will continue to suffer as will its neighbours," said Mr Fabius.
He said that while President Assad "has a lot of faults, he is not an idiot" and that France "can't see why he would hand over all his powers".
"As for the opposition that we support, it is in great difficulty," he added.
France was one of the first countries to give its backing to the Free Syrian Army (FSA), the main military force opposed to Mr Assad, and to the political opposition umbrella movement the Syrian National Coalition (SNC).
But the SNC has been plagued by internal division over which groups should represent it.
There has also been a change in the dynamic of the nearly three-year conflict, with al-Qaeda-affiliated jihadist groups increasingly taking territory from the FSA.
Several of the major rebel fighting groups have renounced the coalition and have rejected the idea of talks outright.
Last week, the US and UK said they were suspending all non-lethal support for the rebel forces - including medicine, vehicles and communications equipment - over concerns it was ending up in the hands of jihadists.
Meanwhile doctors and aid agencies have warned many hundreds of thousands of people are facing starvation, trapped in rebel-held areas in Damascus and other cities, and under siege from government forces.
The UN estimates almost 2.3 million Syrians have fled to neighbouring countries since March 2011.