Syria conflict: 'Islamist rebels' kill Adra civilians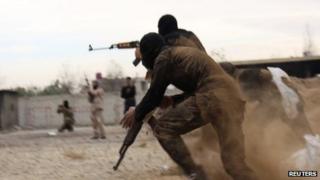 An attack by Islamist rebels has left at least 10 people dead over the past two days in the Syrian town of Adra, activists and eyewitnesses say.
Most of the victims were from minority sects, reports said.
State media said on Friday that the army had launched a "broad offensive" in the direction of Adra.
Pro-government forces are thought to have been behind most recorded massacres in Syria, but rebels have also been accused of atrocities.
Adra and the surrounding area have been the scene of heavy fighting between government and rebels in recent days.
Adra, around 21km (13 miles) from Damascus, is a religiously mixed town and reports say many of the civilians killed were from the same Alawite minority as President Bashar al-Assad, as well as some belonging to the Druze community.
At least one pro-regime fighter was also killed in the clashes.
One woman in Adra told Reuters armed men from the Islamic Front and al-Qaeda-linked Nusra Front brigades entered her family's house on Thursday and took her son.
The militants said her son would be returned, but he was still missing on Thursday afternoon, she said.
'Terrorising of civilians'
The attack comes amid intense clashes around the Syrian capital in recent months, many of which have been won by the regime.
While the initial character of the uprising against Mr Assad in 2011 was not sectarian, Islamist rebel brigades are now at the forefront of fighting the government.
Earlier this week, two Spanish journalists were kidnapped near the Turkish border by the Islamic State of Iraq and the Levant (ISIS), a radical Islamist group also linked to al-Qaeda.
Activists said leading human rights lawyer Razan Zeitouneh was also abducted near Damascus on Tuesday along with three other people.
There was no claim of responsibility for the abduction, but Ms Zeitouneh is reported to have recently received threats from Islamist rebel groups.
On Friday the UN High Commissioner for Human Rights Navi Pillay condemned the "increasing trend of abductions and enforced disappearances" in Syria on both sides of the conflict.
"Families of these detainees have in many cases had no word about the whereabouts of their loved ones and do not know if they are dead or alive... This kind of terrorising of civilians must stop," she said.